Madonna's song with David Guetta on his album on October 2, 2010
La chanson de Madonna avec David Guetta sur son album le 2 octobre 2010.

David Guetta 'starstruck by Madonna'
Monday, August 23 2010, 12:05 BST
By Robert Copsey, Music Reporter
David Guetta has revealed that he was "starstruck" during his time in the studio with Madonna.
The 'Sexy Bitch' DJ, who confirmed last year that he was recording a track with the 'Hung Up' star, admitted that he was nervous to meet the singer.
"It was the first time I was properly starstruck," he told the Daily Star.
The song will feature on a repackaged version of his One Love album, for which Guetta is still recording tracks.
On his upcoming collaborations, he said: "I am talking to Rihanna about doing a song but nothing is confirmed."
The deluxe version of One Love is out on October 2.
Source: Digital Spy.

DAVID GUETTA INSPIRED BY KINGS OF LEON
23rd August 2010
DAVID Guetta is getting set to reinvent his sound and rockers Kings Of Leon have been inspiring his next move.
The dance demon was gutted his headline slot on the 4 Music stage at the Virgin Media V Festival clashed with the Nashville siblings' set.
David told me: "I might make dance music but that doesn't mean I'm not influenced by bands like Kings Of Leon and Coldplay.
"I'm such a fan of the Kings and would've loved to have seen their performance. "Right now I'm planning coming back with a new sound for my next album due out in summer 2011."
With a dazzling light show and giant robots on stage during a set that saw sizzling remixes of 20-year-old Jason Derulo's Whatcha Say and 90s classic Show Me Love by Robyn S, David was the Saturday highlight for me.
After chalking up his fifth UK No 1 single with Flo Rida, 30, last week, David has cemented his position as one of the hottest producers in the world.
And next on his hit list is Rihanna, 22. He said: "I am talking to Rihanna about doing a song but nothing is confirmed."
What is certain is the 42-year-old has snagged Madonna, 52, for a tune on his One Love album repackage, out October 2.
He said: "It was the first time I was properly star-struck." With a wall full of platinum discs at home plus gongs including a Grammy, Frenchman David is the nearest thing to royalty in Europe. And he loves his British fans too.
He added: "It's not often a French artist has such success, so I am very happy for the support."
Source: Daily Star.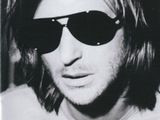 David Guetta