Madonna's stepmother Joan talks about Madonna
La belle-mère de Madonna, Joan, parle de Madonna.

Madonna's stepmother shows up at America's Second Harvest fundraiser and donates a Madonna jacket to raffle off to help raise money for the hungry.

WJCL's Jenifer Andrews Meets Madonna's Stepmom at Local Fundraiser
Reported by: Jenifer Andrews
Published: 4/29 7:49 am
Updated: 4/29 8:04 am
Madonna's stepmother was there because she's the aunt of a board member. Joan Cicconi told me she married Madonna's father when Madonna was seven. So she helped raise the then would-be singer. She says Madonna was an outgoing, disciplined child, and very precocious.
Madonna originally wanted to be a dancer, but left college after two years, saying it was just too competitive. So she left for New York to become a star. Her stepmother says she was driven, and finally landed an interview with Warner Brothers. Madonna told her agent that she'd make them millions of dollars if they'd sign her. And that she did.
Madonna's stepmother says Madonna is a terrific mother. And is very close to her father. She also donated one of Madonna's jackets to the Jewels and Jeans event to raffle off to help feed the hungry.
Source: WJCL Savannah/The Coastal Source.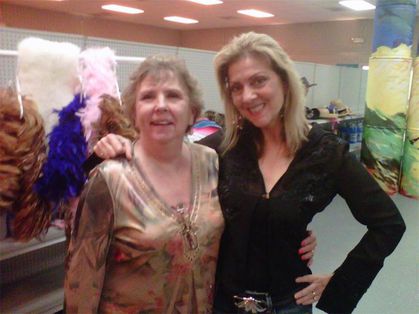 Madonna's stepmother Joan and WJCL's Jenifer Andrews.