Madonna's ''Sticky & Sweet Tour'' CD-DVD: review by 'EW'
CD-DVD "Sticky & Sweet Tour" de Madonna: revue de "EW".

Music Review
Sticky & Sweet Tour
Reviewed by Mikael Wood | Mar 31, 2010
Hard Candy was very minor Madonna, but her world tour behind it was a straight-up (disco) ball. And while this live CD-DVD can't replicate being there, Sticky & Sweet — taped in Buenos Aires in 2008 — does capture the show's rejuvenative streak, as on the electro-garage ''Hung Up.'' Props, too, for a behind-the-scenes doc that actually goes behind the scenes. Auditioning for Madge: intense! B+
Download These:
Like a Prayer 2008 with a pounding techno beat at lala.com
Expletive-enriched Human Nature at lala.com
Source: EW (Entertainment Weekly).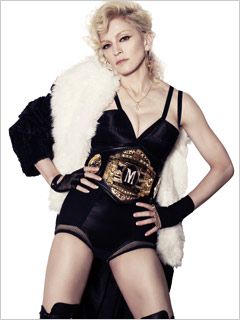 THE BEAT GOES ON with Madonna
Photo: Steven Klein.