Madonna's traditional Russian wooden doll on sale until Jan. 30, 2010
La poupée russe traditionnelle en bois de Madonna en vente jusqu'au 30 janvier 2010.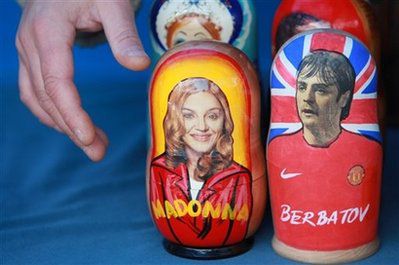 A street vendor arranges traditional Russian wooden 'Matryoshka' dolls with the picture of US singer Madonna and Manchester United's player Dimitar Berbatov, right, in the Bulgarian capital Sofia, Saturday, Jan. 23, 2010. The dolls are for sale on street markets in the Balkan country a week before Berbatov's birthday on January, 30.
Photo: AP/Petar Petrov.