Madonna's would-be Kabbalah Castle sees new life
Le château potentiel de la Cabbale de Madonna voit une nouvelle vie.

By Matt Coyne
March 31, 2011 | 11:14 a.m.
The Lower East Side's 179 Ludlow Street is, finally, after years of bankruptcy and flirtations with kabbalah, getting cleaned up, and is on its way to becoming a rental, the Post reports.
The man behind the project is lender Michael Goldberg, who got the city to partially lift its stop-work order last week and started cleaning up the site, which became a feces-encrusted rat castle just a year after former owner Michaelangelo Russo, who bought the property for $5.2 million in 2007, ran out of money. In addition to the rats, the building had an illegal construction shed that jutted out so far into the street it held up traffic.
Mr. Goldberg has scrapped plans for condos or a hotel, and has, instead, decreed it shall be a rental. Reportedly, he has already met with the architect and engineer. The building should be completed by the end of the summer.
Source: The New York Observer.

Joint venture at 685 Third
Last Updated: 7:45 AM, March 31, 2011
Posted: 12:27 AM, March 30, 2011
Lois Weiss
BETWEEN THE BRICKS
The long-stalled sliver project at 179 Ludlow Street is on its way to becoming a good citizen of its Lower East Side block. This six-story gut rehab next to Katz' Delicatessen is one of three stalled sites on the block.
The others include a proposed, 18-story hotel at 180 Ludlow which just renewed a permit for a hoist, and 163 Orchard, which runs through to Ludlow and renewed its new building permit for a 12-story hotel in February. Both are Serge Hoyda projects and need additional permissions to move forward. A call to his office was not returned by deadline.
Meanwhile, lender Michael Goldberg finally got the keys to No. 179 after the foreclosure auction on March 23. He immediately got its city Stop Work Order partially lifted and began cleaning up the site. According to Curbed, some years ago the retail there had been shown to Madonna for a Kabbalah Center by a previous developer.
Goldberg has already met with the architect and engineer to get the project back on track, but this time, he says, rather than a hotel or condo, the market dictates it will become a rental.
"With luck it will be done by the end of the summer," Goldberg said.
Local building owner Michael Forrest, CEO of Forrest Partners, who also heads the LES Business Improvement District, said, "I own two buildings on Ludlow St. and it's great for me to see and hear this will be done."
Yesterday, HBO was filming its series "How to Make it in America" both on the street and in Forrest's storefront at 164 Ludlow St. which is a fashion shop in the series.
The No. 164 storefront may also become a fashion shop in real life. Forrest declined comment but other sources told us a lease is out for that 1,800 square foot space with Jay Z's Rocawear. Keep an eye on these blocks as retail asking rents are around $100 a foot and a Steve Madden store has already located at 132 Ludlow at Rivington St.
Source: NYPOST.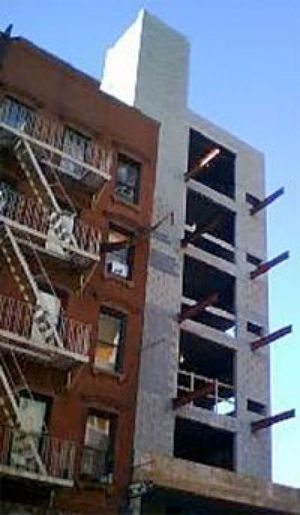 Michael Goldberg is well on his way to evicting the rats.
Photo: Curbed.