Madonna says she's not scared of alleged stalker
Madonna dit qu'elle n'a pas peur du présumé harceleur.

Madonna says she's not scared of alleged stalker Robert Linhart, caught waiting for star at her door
BY Melissa Grace, Barry Paddock, T.J. Raphael and Samuel Goldsmith
DAILY NEWS STAFF WRITERS
With Joe Kemp, Matt Bultman and Jonathan Lemire
Wednesday, September 22nd 2010, 8:50 PM
Madonna says she's not worried about a wacko stalker whom cops have busted twice in recent days - even though the man vows to keep showing up at her door.
"No," she said Wednesday night at Macy's when asked whether she feared for her safety. The singer was at the retail giant's Herald Square flagship with daughter Lourdes to launch their new "Material Girl" fashion line.
"I won't stop until I actually meet Madonna," retired FDNY Firefighter Robert Linhart told cops after his arrest at Madge's Central Park West pad Tuesday. "I am going to go right back there and do it again."
Getting there won't come cheap. Manhattan Criminal Court Judge Frank Nervo set bail at $20,000 yesterday - double what prosecutors asked for.
Linhart, 59, who lives upstate near Lake George, was arraigned on charges of criminal mischief, graffiti and possession of a homemade, 7-1/2-inch ice pick and was called "a danger to the public."
He was busted painting messages to the singer on the sidewalk declaring, "Meet me please."
"Tell me yes or no," read another sign.
Linhart was arrested Saturday in the same place, blasting music over his car stereo. He was charged with resisting arrest, disorderly conduct and criminal possession of a weapon.
His lawyer Sheryl Bader argued, "There was no threatening conduct.
"My understanding is it's not a crime to adore Madonna," she said. "If it were, the court would be a lot more crowded." The FDNY confirmed Linhart, a 21-year veteran, retired in 1998 after spending most of his career at Ladder 30 in Harlem.
Source: NY Daily News.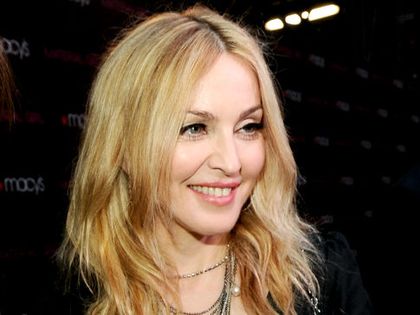 Madonna, at the launch of her 'Material Girl' line, said she wasn't worried about her wacko fan.
Photo: Mazur/WireImage.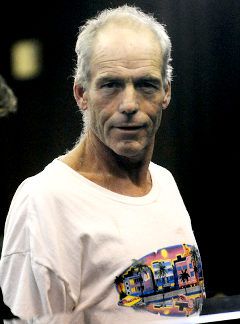 Robert Linhart, 59.
Photo: Hermann for News.