Madonna searched for dancers for her next tour at NY nightclub SL
Madonna a cherché des danseurs pour sa prochaine tournée dans la boîte de nuit SL de New York.

Madonna Has A Furious Dance-Off With Toyboy
22/03/2010
Madonna and her toyboy lover spent 90 minutes competing against each other in a furious dance-off over the weekend.
The 51-year-old pop star and 23-year-old Brazilian underwear model hosted a dance event at New York nightclub SL to find backing dancers for her upcoming tour. The singer roped off half the hotspot's dance floor for the impromptu auditions, which saw Brazilian performers doing flips and engaging in a mock combat dance-off to music.
Madonna and Jesus held hands and laughed as they watched the dancers show off their skills before deciding to join in themselves. The couple took to the floor for around 90 minutes, furiously busting out impressive moves in an effort to show the other up.
In the end, no winner was decided and the pair declared themselves equally matched before leaving in "great spirits".
Source: MusicRooms.

Couples Watch: Madonna & Jesus Host a Dance-Off in N.Y.C.
Monday March 22, 2010 06:00 AM EDT
• Madonna and Jesus Luz, hosting an epic dance-off at SL in New York. The pop star was there to scout dancers for her upcoming tour – and half the room was roped off for the impromptu performance, where Brazilian dancers used drumsticks and mixed mock combat with flips and spins while getting down. Madonna and Luz held hands and watched. After enjoying the performance, the twosome joined in and danced together for around 90 minutes before leaving together in great spirits.
Source: People.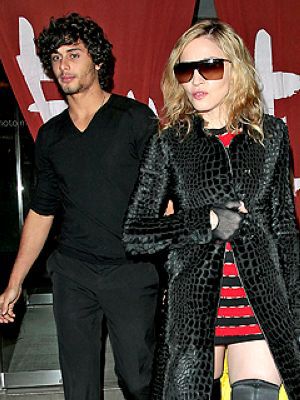 Jesus Luz and Madonna
Photo: Jackson Lee/Splash News Online.