Madonna sent an SOS to Coutts-Davidson for her movie ''W.E.''
Madonna a envoyé un SOS à Coutts-Davidson pour son film "W.E.".

Jump! For Madonna
By JMO and Elle / The Sunday Telegraph
August 15, 2010 2:17PM
When Madonna says jump, you say how high, and that's definitely the case for Sydney-based Edward Coutts-Davidson.
The Material Girl sent an SOS to the creative director and events specialist to recreate Windsor Castle in just four days for a scene in her new film, W.E. - a story based on the life and loves of Wallis Simpson. The film stars Australia's Abbie Cornish.
Coutts-Davidson flew to the UK in a rush on Friday to transform an old English manor, three hours away from London, into Windsor Castle.
Coutts-Davidson has a long association with Madonna, having decorated her private home in the UK, organised her 49th birthday party, styled some music videos and planned her son Rocco's 5th birthday party.
Source: Courier Mail.

More on Madonna's interior designer Coutts-Davidson:
Interior motif
By Victoria White
The Australian, August 06, 2009 12:00AM
Edward Coutts Davidson talks to Wish magazine about being Madonna's interior designer, and the joys of moving from London to Sydney. One of his design techniques is to compile "mood boards" - images pertinent to the theme at hand - which he uses as inspiration. This one was for an Italian-style job. Wish is published free with The Australian on Friday, August 7.
IT is difficult to describe the man who is busy organising a soiree for Mikhail Gorbachev one minute and helping Madonna decorate her newest residence the next.
Edward Coutts Davidson has a CV that is a patchwork quilt of talents – sourcing antiquities, styling celebrity homes, creating bespoke pieces, organising VIP events (Madonna credits him alongside Alexander McQueen and Kanye West on her Sticky & Sweet tour) and designing his own furniture collection.
Suffice to say, the "interiors gypsy", as he describes himself, is fast becoming the person to have on speed dial if you're a celebrity, royal or just someone who needs that authentic Louis XIV chair ... pronto!
Originally from Edinburgh in Scotland, Coutts Davidson has lived a nomadic life, flitting from city to city as his work dictates. Today, however, the wanderer is settling happily into his new Sydney waterside home with his partner Marianne Bastin.
"We live just three doors down from Prime Minister Kevin Rudd and from our window we have the most breathtaking view of the Opera House," says Coutts Davidson. "We left London in search of fresh opportunities and sunshine. Los Angeles might have been an obvious choice but we prefer somewhere with a little less Botox.
"Marianne's half-Australian so we felt a connection to this incredible country and already we feel totally at home. We may have left friends, family and clients behind, but the world is so small these days I don't feel too far away."
He is, though, more than 16,000km and five years away from the pivotal moment that was to change his career forever. "It was early in the morning when a young American girl entered my shop in London to inquire about a pair of lanterns in the window she wanted for her boss.
I told her to take them without bothering about a deposit," laughs Coutts Davidson. "Well, she didn't look like she was going to steal them! So I put them in the back of her impressive, shiny, chauffeur-driven car and thought little more of it. The next day, when she returned with the money, I learnt they were for Madonna. And so began our working relationship."
Over the next six years Coutts Davidson helped Madonna decorate her London homes, as well as Ashcombe House, the country estate in Wiltshire that she bought with Guy Ritchie, scouring the globe to find unique pieces to suit.
"She has her own clear design ideas but she used me to help make those ideas come to fruition and to add another dimension. She has had a huge impact on me and I continue to enjoy working with her."
The feeling is mutual. Madonna happily discloses her affection for Coutts Davidson, proclaiming, "No matter what kind of world you want to create, whatever era you want to visit, Edward is the man for the job. He has a unique vision and excellent taste."
High praise indeed, but his relationship with the Material Girl wasn't his first brush with the rich and famous. At the age of 15, Coutts Davidson worked as a porter in legendary London auction house Christie's. It was here that he witnessed the live auction of Van Gogh's Still Life: Vase with Fifteen Sunflowers', which sold for just shy of $US40 million in 1987. "I can remember it as though it were yesterday," says Coutts Davidson. "The atmosphere in the room was electric and I can clearly recall the hair on the back of my neck standing on end. It was my job to help transport the painting and I was terrified of dropping it or putting my foot through it in my discomposure. As the auctioneer's gavel hit (the rostrum) everyone in the room stood and applauded. It was certainly an unforgettable moment in my life."
At 17 years old, Coutts Davidson was a cataloguer and valuer, one of the youngest to reach such a position but this wasn't enough for the young impresario and he began buying and selling antiques to supplement his meagre income. Roaming London's Bermondsey Antiques Market one Sunday morning with a hangover, he found something to make his headache go away. "It was ridiculously early and I was a bit bleary-eyed from a great Saturday night out, when I stumbled across a drawing by Gino Severini. He was an Italian painter and a leading member of the futurist movement and I recognised his work instantly. I froze when I saw it, wondering if my inebriated state was perhaps playing tricks on me. But I was convinced by my assessment and tried desperately not to give the game away. So I put on my best poker face, paid the £150 asking price, and hopped in the first taxi out of there!" It took a few weeks to get it authenticated but, sure enough, his instinct was correct and the drawing sold for £17,500 at auction. Coutts Davidson had found his calling.
The following years were filled with adventures that took him to the far corners of the globe, buying eclectic goods and returning them to his first shop in London's Portobello Road. It wasn't long before word spread across town that Coutts Davidson was the man to see for beautiful and diverse items. Every weekend, queues would form as buyers waited for his latest treasures to be unpacked. And so began his association with the jet set – among them pop stars, artists, writers and celebrities. Today Coutts Davidson's client list reads like a who's who of the stylish: Kate Moss, Russell Brand, Sadie Frost, Keira Knightley, George Michael ... not to mention some of the world's most prestigious brands, including Wedgwood and Fortnum & Mason.
Then there are the royal connections. Coutts Davidson has worked for the royal families of Bahrain and Kuwait, decorating palaces and museums. "I was with a leading member of Middle Eastern royalty who wanted me to furnish and decorate a room in their palace. She took me into a large white room, adorned with a huge chandelier, and immediately I began suggesting wonderful ideas to transform the space. She turned to me with a quizzical expression and said: 'No Edward, this is not the room I want you to work on. This is just the lift!' "
Ever the entrepreneur, Coutts Davidson went on to set up the first antiques fair in Bahrain, with millions of dollars worth of precious pieces. "It was quite comical in a way, a bit like a posh car-boot fair in that, as soon as we opened, the place was filled with princesses all haggling and fighting over priceless articles. It was quite an experience and one of the highlights of my time working in the Middle East."
Another of his absolute passions is creating and transforming restaurants and bars. He worked alongside Guy Ritchie on the design of his London pub The Punch Bowl, which is one of the oldest in Mayfair and dates back to the 1730s. "I really enjoyed working on The Punch Bowl," he says. "It was a great challenge to keep the style authentic while adding a contemporary twist, but I think I achieved it."
The Coutts Davidson creative patchwork quilt continues to flourish, with his arrival in Australia offering new horizons. His Sydney office will serve his clients in the US and Europe while expanding to serve the Asia-Pacific region with the design of hotels, restaurants, bars, night clubs and private residences. "I'm so excited about the opportunities here," he says. "Countries such as Japan, Vietnam and China all offer so much cultural diversity and commercial potential. It's totally re-energising."
So could this be the land to finally lure the interiors gypsy to put down roots? "Australia is such an amazing country," he enthuses, "there is so much beautiful land in such incredible locations. The sense of space is inspiring and I see some amazing interior canvases all around that Marianne and I would love to get our hands on. We really hope to make a home and have a family here in Sydney. I can't think of anywhere in the world better to live."
But, almost at once, Coutts Davidson caveats that sentiment with: "Of course, this could only ever be a base. I have huge projects that take me all over the world and I have to go wherever my work takes me." It would appear that, no matter how hard he tries, the gypsy in him can't be repressed – and maybe that's the secret to his unbridled success.
Source: The Australian.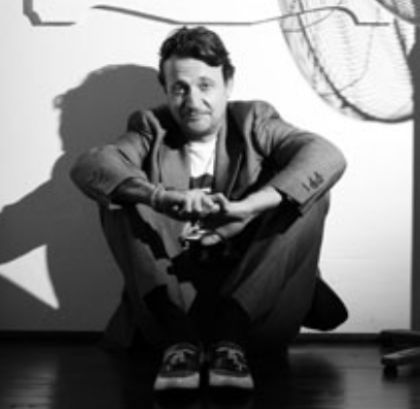 Coutts Davidson's lucky break came when he lent a pair of lanterns to a new customer - who turned out to be working for Madonna.
Photo: Adam Knott.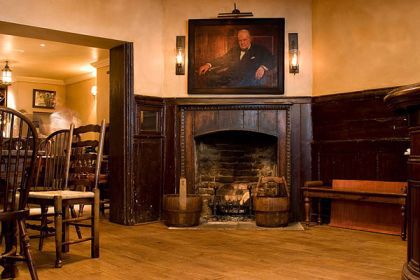 The Punch Bowl, Guy Ritchie's traditional pub in Mayfair, London, which has had the Coutts Davidson touch without resorting to what he calls "contemporary twists".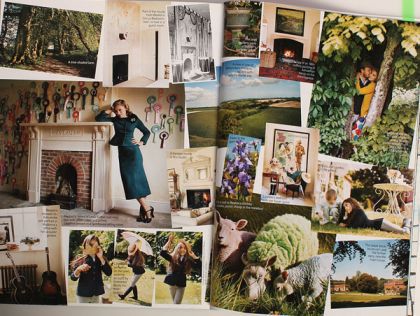 Coutts Davidson featured in US Vogue in 2005.