Madonna shooting ''W.E.'' in Central Park, NY
Madonna tournant "W.E." à Central Park, NY.

C'mon, Madge, get a leg up!
By TODD VENEZIA
Last Updated: 2:30 AM, September 18, 2010
Posted: 2:30 AM, September 18, 2010
Yoga and exercise fanatic Madonna met her match yesterday.
The pop queen looked out of breath yesterday while stomping around Central Park and then awkwardly trying to hop over a bench.
Wearing a hipster hat, biker jacket and parachute pants, Madonna was uptown shooting a movie she is directing, entitled "W.E.".
But the display made onlookers wonder if the typically ripped performer's yoga classes were helping at all!
Madonna's latest venture has her taking a shot at her ex-hubby Guy Ritchie's profession by becoming a director.
Her movie is a "two-tiered romantic drama focusing on the affair between King Edward VIII and American divorcée Wallis Simpson and a contemporary romance between a married woman and a Russian security guard," according to the Internet Movie Database.
Source: NYPOST.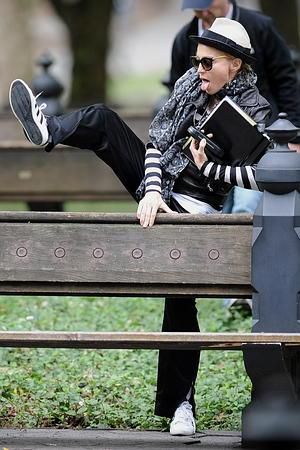 Madonna
Photo: Humberto Carreno/startraksphoto.