Madonna song deleted from new Timbaland album
Chanson de Madonna supprimée du nouvel album de Timbaland.


October 5, 2:55 PM
Indianapolis Celebrity Headlines Examiner
Sue Bergerstein
Timbaland, whose "musical" productions sound like something that should only be played in your worst nightmares, is going to put out a new CD called Shock Value 2. We hear that Timbaland was originally supposed to include a song about coffee sung by Madonna. However, Timbaland and Madonna allegedly had a falling out after her Hard Candy album didn't exactly thrill listeners.
Hard Candy produced the hit "4 Minutes," but that's about it. The music on the album pretty much sounds like the type of music you would hear on your way to Hell. Timbaland has about as much talent as a first grader learning to play Guitar Hero. It's quite shocking that a musical legend such as Madonna let him produce a record for her.
Madonna shouldn't be too upset that she's been booted off an album by a famous producer. Like other famous producers who got on Madonna's bad side (remember Steve Bray or Shep Pettibone?), Timbaland will most likely disappear within a couple years.
Source: Examiner.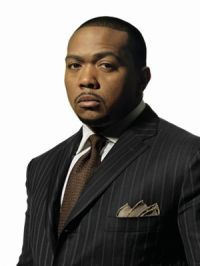 Got Talent? Um, not so much!
Timbaland
Photo: WENN.