Madonna stayed on Mr Abramovich's yacht Luna while shooting ''W.E.''
Madonna a séjourné sur le yacht Luna de Mr Abramovich pendant le tournage de "W.E.".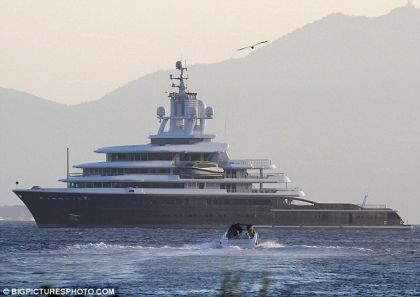 Mr Abramovich's yacht "Luna"
Macrobiotic Madonna spotted with ciggie in hand on film set in France (but don't worry, it's just a prop)
By Liz Thomas
Last updated at 8:56 PM on 30th July 2010
She swears by a macrobiotic diet and an intensive gym regime.
But Madonna appeared to have fallen off the wagon when she was pictured in France, apparently holding a cigarette and a lighter.
The Material Girl used to be a smoker in her younger days, but has adopted an anti-cigarette stance in recent years.
And with her head tilted back and eyes closed, she gave a convincing impression of a smoker getting a long-awaited nicotine hit.
But a spokesman for the star insisted that Madonna was merely holding a prop cigarette for one of the actors on the set of her latest film.
The 51-year-old is in Cannes directing W.E. – a dramatisation of the love affair between King Edward VIII and American divorcée Wallis Simpson, which resulted in the King's abdication in 1936.
Mrs Simpson is played by Andrea Riseborough, best known for her portrayal of former Prime Minister Margaret Thatcher in BBC4 drama The Long Walk To Finchley, while James D'Arcy plays the conflicted King.
The plot also features a parallel story about a contemporary romance between a married woman, Wally Simpson, and a Russian security guard.
But while Madonna is busy focusing on her directorial career, she has still managed to find accommodation fit for a Material Girl – on board Luna, a £115 million yacht belonging to Roman Abramovich.
With a swimming pool, sunbathing deck, gaming area and two helipads, the 115 metre boat is the largest expedition yacht in the world.
Madonna is a guest of Chelsea Football Club owner Mr Abramovich, who only collected the Luna two months ago. He also recently bought the £300 million super yacht Eclipse – complete with missile-detection system, two helipads, luxury spa, swimming pool and miniature submarine.
Source: Mail Online.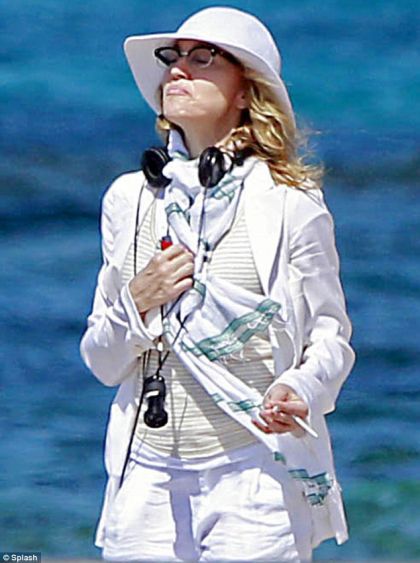 Deep breath: Madonna, appearing to be holding a cigarette and lighter as she directs her new movie W.E.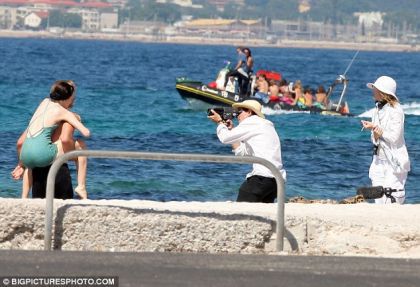 Who's that girl? Madonna, still holding the cigarette, watches a group of holidaymakers on a passing yacht go past, the passengers oblivious to the celebrity on shore.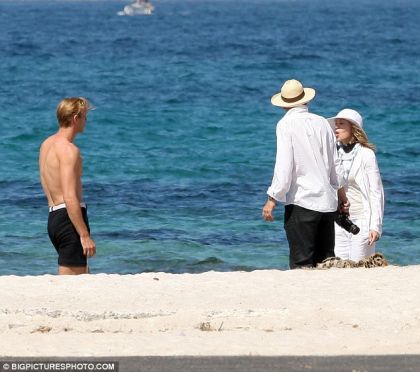 Fag break: Madonna appears to be blowing smoke out of her mouth as she talks to her director of photography and actor James D'arcy, who plays the King, but it's all just for show.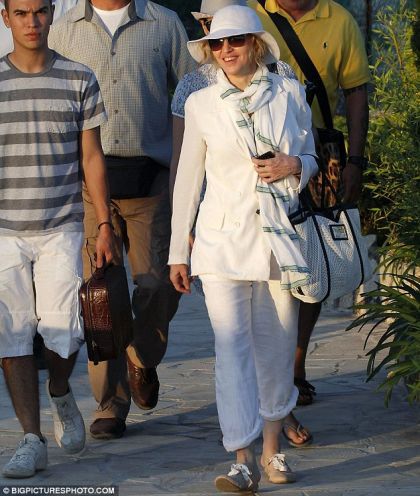 That's a wrap: Madonna finishes filming for the day and walks down to the seafront with her crew.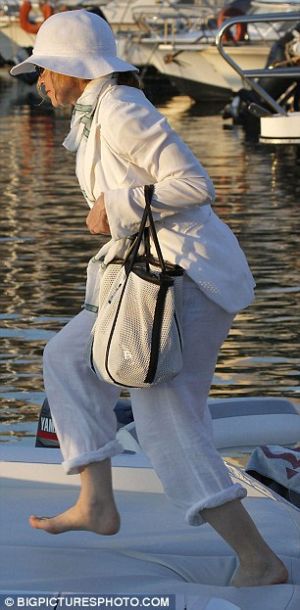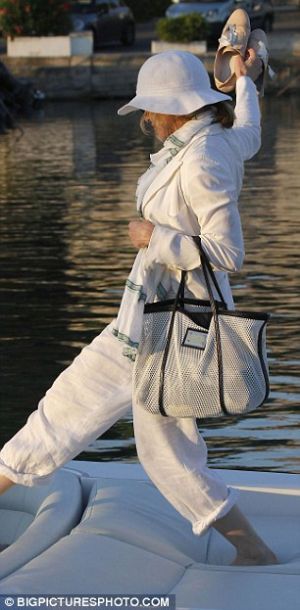 One, two three, jump! Madonna gingerly leaps onto the small speed boat which will whisk her off to Abramovich's yacht, below.