Madonna, Streisand praise Elizabeth Taylor
Madonna, Streisand louent Elizabeth Taylor.

Thursday, March 24 2011, 00:45 GMT
By Christian Tobin, News Subeditor
Madonna, Barbra Streisand and Debbie Reynolds have joined the many celebrities paying tribute to Elizabeth Taylor.
The Cleopatra star passed away at the age of 79 as a result of congestive heart failure in the early hours of Wednesday morning.
Taylor's longtime friend Streisand released a statement expressing her sadness at the news, calling her death "the end of an era".
Streisand said: "It wasn't just her beauty or her stardom. It was her humanitarianism. She put a face on HIV/AIDS. She was funny. She was generous. She made her life count."
Madonna also praised Taylor's campaign work and said that the screen icon was "one of a kind".
"I am so sorry to hear that this great legend has passed," the popstar told Us magazine. "I admired and respected her not only as an actress but for her amazing and inspiring work as an AIDS activist."
Taylor had a strained relationship with fellow actress Reynolds after she entered into an affair with Reynolds's then-husband Eddie Fisher, but the two women reconciled their differences later in life.
On hearing of Taylor's death, Reynolds issued a statement saying: "She was the most glamorous and sexual star of our generation. No-one else could equal Elizabeth's beauty and sexuality.
"Women liked her and men adored her, and her love for her children is enduring. She was a symbol of stardom. Her legacy will last."
Source: Digital Spy.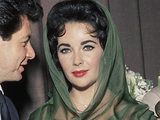 Elizabeth Taylor