Madonna Talks About Death of Alexander McQueen
Madonna parle de la mort d'Alexander McQueen.


by Paul Cashmere - February 12 2010
Madonna has spoken out about Alexander McQueen following the suicide of the UK fashion icon.
In a statement she said, "Lee McQueen was a truly unique visionary in the world of fashion. A creator of beauty. What a tragedy."
McQueen was found dead at his London home on Thursday. He was 40.
His family has issued the following statement. "On behalf of Lee McQueen's family, Alexander McQueen today announces the tragic news that Lee McQueen, the founder and designer of the Alexander McQueen brand has been found dead at his home. At this stage it is inappropriate to comment on this tragic news beyond saying that we are devastated and are sharing a sense of shock and grief with Lee's family".
"Lee's family has asked for privacy in order to come to terms with this terrible news and we hope the media will respect this".
McQueen's death comes just a week after the death of his mother Joyce on February 2. He was also affected badly by the suicide of his friend and mentor Isabella Blow in 2008.
Source: Undercover.

Feb 11 2010 2:56 PM EST
Lady Gaga, Rihanna, Madonna, More Rocked Alexander McQueen Designs
Victoria Beckham, Sandra Bullock also fans of the late designer's edgy fashions.
By Jocelyn Vena
Alexander McQueen's avant-garde designs left an indelible mark on the worlds of pop culture and pop music. His couture styles decorated the famous bodies of Rihanna, Madonna and Lady Gaga, to name a few.
For Lady Gaga's game-changing video for "Bad Romance," the pop star took to the screen covered literally head to toe in McQueen designs, crawling across the set in his infamous lobster-claw heels.
But Gaga isn't the first pop star to showcase McQueen's work — Madonna has been a fan of his for years, wearing the designer's handiwork to the 1998 Video Music Awards. And in 1997 David Bowie wore a McQueen Union Jack coat on the cover of his Earthling album. Recently Rihanna has graced red carpets and made television appearances in McQueen, most notably at the London premiere of "Inglourious Basterds" last summer and later that year during an appearance on "It's On with Alexa Chung."
Fashionista and fashion designer Victoria Beckham rocked a graphic McQueen cocktail dress at an event last spring, and Cate Blanchett and Gwyneth Paltrow have also been photographed in McQueen's daring designs.
Oscar nominee Sandra Bullock showed her love for McQueen on the red carpet at the premiere for "The Proposal" last summer. "The Hills" star Audrina Patridge accessorized her 2009 Grammys outfit with a purse by the late designer. And Ashlee Simpson showed that you can still be edgy and fashion-forward even as a mom-to-be, wearing a flowy gown by McQueen during her pregnancy in 2008.
Source: MTV News.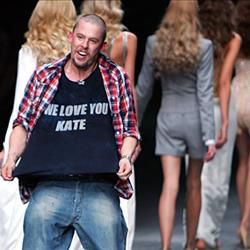 Alexander McQueen