Madonna, teen daughter turn material sense to fashion line
Madonna et sa fille adolescente transforment le sens matériel en ligne de mode.

August 7, 2010
How prophetic that Madonna, who proclaimed her desire to "Dress You Up" in her 1985 song of the same name, is actually doing it.
Her hotly anticipated junior collection, aptly named Material Girl (for the '84 megahit), designed with 13-year-old daughter Lourdes Maria Ciccone Leon, debuted this week at Macy's.
Quirky-cute and some of it soundly smacking of vintage Madge, the well-priced, 119-piece line includes everything from tube tops ($5) to flirty floral dresses ($32) to accessories like a multi-strand chain ($18), a flat suede boot ($39) and a green and silver camo purse ($20).
The collection is "appropriate for any girl from mid- to late teens or early 20s," said Rob Smith, Macy's executive vice president of merchandising, noting that Lourdes (known as Lola) played a key creative role. "Madonna is the ultimate style icon, and she is the businesswoman you think she would be, but Lola has a real sense of style."
During the design process, Smith said, "Lola would go through her own closet and pull some of her favorite clothes." (Some of these faves were apparently poached from Mom's closet. Hey, teen agers are teenagers.)
Lola herself weighs in on the collection via a feisty, sweet blog (macys.com/materialgirl) complete with what seems to be some real teen talk — "reee-heeaally" — though one imagines there's more than a bit of adult collaboration, as in the phrase "effortlessly chic."
Madonna, who appears in the 2010 spring advertising campaign for Dolce & Gabbanna, has made fashion headlines before — think cone-shaped bras. And this is not her first foray into fashion. In 2007, she created a line for H&M, "M by Madonna," which did not receive all-around raves but sold out just the same.
Marshal Cohen, chief retail analyst of NPD Group, a market research organization in Port Washington, says, "I love the concept. They've gone multigenerational. We've got the ultimate material girl, someone who's been setting trends all her life, and the addition of the younger generation. Even if you were against Madonna from way back, now she's a mom with a daughter."
Martine Reardon, Macy's executive vice president of marketing, said the collection is all about Lola's personal style and point of view.
Source: Poughkeepsie Journal.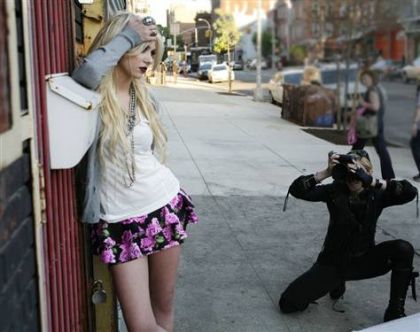 Madonna gets behind camera on set at the Material Girl photo shoot with actress Taylor Momsen in May in Brooklyn. Momsen, recently revealed as a celebrity muse for the brand, was chosen by Madonna and her daughter Lola.
Photo: Iconix Brand Group Inc.