Madonna 'Texting Ex-Husband Guy Ritchie'
Madonna 'envoie des sms à son ex-mari Guy Ritchie'.


Tuesday June 29, 2010
Madonna has been sending ex-husband Guy Ritchie late night text messages — according to a new report.
Insiders say the singer — who divorced the British film director 19 months ago — is keen for Guy, who's currently dating model Jacqui Ainsley, to come away for a family weekend in August.
"Madge and Guy talk weekly about the kids," a source told Britain's Now magazine.
"But since she split with Jesus in February, she's been calling him more often and texting, too.
"She's asked him to come away on a family weekend for their son Rocco's birthday in August and is desperately hoping he'll say yes.
"It took him ages to get over Madonna. He's enjoying the dating scene and is happy with Jacqui.
"His kids will always be his priority but he doesn't feel he has to do things with Madonna just to keep the kids happy.
"Madonna keeps saying how important it'll be to Rocco and that they should put aside their differences for the sake of the kids.
"She knows Rocco would love both his parents there but it's not an entirely selfless gesture — she hates being lonely and isn't used to being single, so she thinks a weekend with Guy will bolster her spirits.
"He texted Madonna to say he'd planned to take Rocco on a fishing weekend, just the two of them.
"Madge reckons that's a good idea but thinks he should do it another time.
"Guy's desperate for it not to turn into a row.
"He doesn't want to spend a weekend together as it'll be too stressful but Madge is a convincing woman and he's starting to weaken.
"He knows that if he doesn't go, he'll get the blame for ruining Rocco's birthday."
Source: Showbiz Spy.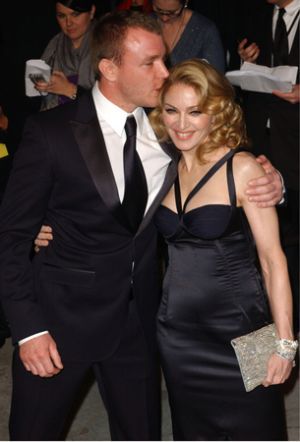 Guy Ritchie and Madonna