Madonna to Debut New Collection of Sunglasses, Teen Fashion
Madonna va débuter une nouvelle collection de Lunettes de soleil, mode pour ados.
Pop Star Joins Long List of Celebrities Who Cash in on Famous Name
By DALIA FAHMY
March 31, 2010
Some celebrities can't seem to help themselves. Give them an opportunity, and they're prone to stick their name on a shoe, a sheet, even beef jerky.
Madonna is the latest big star to cash in on her name; in May she is set to launch a collection of sunglasses with Dolce & Gabbanna.
Dubbed MDG (for Madonna Dolce Gabbana), it's the first line of luxury accessories to come from Madonna's joint venture with Iconix, a massive brand management company that also owns the teen brand Candie's and Jay Z's Rocawear.
Madonna and her 13-year-old daughter, Lourdes, are also set to launch a teen fashion line called Material Girl for Macy's this fall. Lourdes, nicknamed Lola, designed most of the collection herself, Madonna told the Associated Press.
"I just stand in the background and go, 'That's cool, that's not cool,'" Madonna said. "She does have good taste in fashion. I respect her taste and I rarely disagree with her."
Fans and marketers have high hopes. With a reputation as a perfectionist who demands top quality from collaborators, Madonna has an advantage over other celebrities, ranging from Lindsay Lohan (sin: Ungaro pasties) to Jeff Foxworthy (sin: beef jerky), who have drawn laughs over their lines.
"Anything that Madonna touches does well," says Kristi McCormick, founder of Matchbook talent agency, which has represented celebrity chef Emeril Lagasse and football star Tom Brady. "Women, young and old, want to look like her, dress like her, be like her."
Hot Trend
Madonna is tapping into a hot trend: celebrity product branding. It's different from endorsements, in which a star simply agrees to act as a spokesperson for a certain company. Celebrities who launch their own lines often come up with ideas for products themselves, help with the design and own a stake in the venture.
Not surprisingly, celebrities and business don't always mix, says Mark Roesler, CEO of the branding agency CMG Worldwide.
"Celebrities often think they have more power in the marketplace than they do, and they often get involved in projects that aren't well thought out," says Roesler. "It's a difficult business world out there and many products fail."
Sometimes stars stray too far from their base, branching into product lines that don't reflect their own tastes and don't appeal to their fans, says Roesler. Or they cash out too cheaply, putting their name on flimsy, overpriced merchandise.
"If the product is subpar, I don't care who has it, it's going down," says Greg Lipman, managing partner at CBX Strategic Branding, who has advised such clients as Snapple and the Beijing Olympics. "A celebrity isn't going to save a bad product."
Plus, if the celebrity falls out of favor with the public, or becomes embroiled in a scandal, the entire line comes under attack.
Source: ABC News.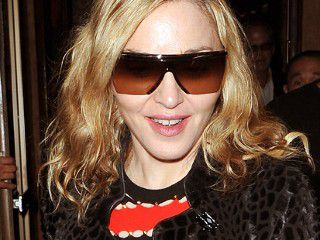 Madonna, shown in this March 18, 2010 file photo, is the latest big star to cash in on her name; in May she is set to launch a collection of sunglasses with Dolce & Gabbanna.
Photo: James Devaney/WireImage/Getty Images.