Madonna turns to ex for fitness advice
Madonna se tourne vers son ex pour des conseils de fitness.


Mon, 05 Jul 2010 8:56p.m.
Madonna talks about fitness "all the time" with her ex-boyfriend, personal trainer Carlos Leon.
The former couple have a 13-year-old daughter, Lourdes, together and have remained good friends since their relationship ended. Carlos is a professional fitness trainer and regularly advises the singing superstar on the latest exercise fads. Madonna, 51, is known for her dedication to working out and loves discussing different ways to work up a sweat.
"We talk about fitness all the time," Carlos said. "Fitness is one of our conversations. She asks me what the latest workout is. At the moment it's 'crossfit', which I follow myself. She looks amazing and there's no doubt about that. It's so great for our daughter to have this attitude set within her family."
Carlos went on to speak about Lourdes, revealing she has a healthy attitude towards eating the right foods and exercising. He insists the teenager isn't too worried about her diet and often indulges her love of takeaway food.
Carlos says Lourdes is a confident girl and doesn't feel under pressure to lose weight, unlike many of her peers.
"I notice that some girls want to be a size zero, but Lourdes is not like that, so I don't worry for her. I always tell her she looks beautiful," Carlos explained to British magazine Grazia.
"I think my daughter sees how hard I work and how healthy I am. Of course, like any normal child, she enjoys eating pizza, but she's very aware of what's healthy and unhealthy."
Source: 3 News.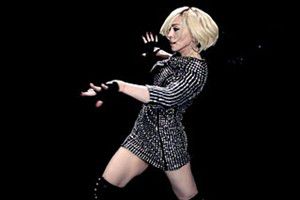 Madonna
Photo: Reuters.