Madonna Urges Gwyneth Paltrow To Divorce Chris Martin
Madonna recommande à Gwyneth Paltrow de divorcer de Chris Martin.


January 8th, 2010 by Castina
Goop Goddess Gwyneth Paltrow has plenty of pals urging her to stay in her supposedly strained marriage to Coldplay rocker Chris Martin — but Madonna isn't one of them!
The Material Girl has reportedly suggested her Oscar-winning bestie send Martin packing following months of rumored strife between the couple. Madge — who separated from ex-hubby Guy Ritchie last year — is certain that with proper guidance, Gwyn can follow in her footsteps and obtain "the perfect divorce, with no squabbling and sharing the children equally."
A snitch blabs in the Jan. 18 issue of GLOBE's Loosch Lips Column: "Whenever Gwyneth complains about problems with Chris, Madonna's solution is she should leave him….Madonna has never liked Chris because he refuses to kiss her butt. The few times they've hung out together, their egos clashed big time."
Source: Popcrunch.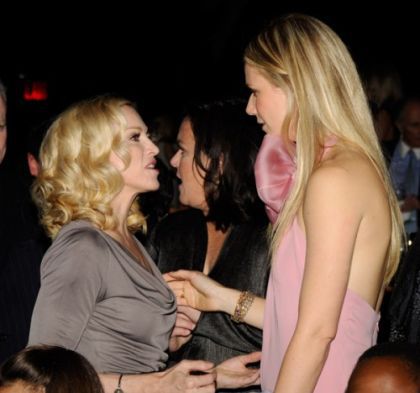 Madonna and Gwyneth Paltrow.