Madonna wins a Golden Globe for ''Masterpiece'' from ''W.E.''
Madonna gagne un Golden Globe pour "Masterpiece" de "W.E.".

Golden Globe Awards - January 15, 2012
Madonna at the 69th Annual Golden Globe Awards held at The Beverly Hilton Hotel - Press Room Los Angeles, California.
Madonna, Julie Frost and Jimmy Harry won the Golden Globe for best song for "Masterpiece" from the King Edward-Wallis Simpson drama "W.E.", which Madonna also directed.

Best Original Song - Motion Picture
Winner: "Masterpiece" – W.E.
Music & Lyrics By: Madonna, Julie Frost and Jimmy Harry
Madonna said: "This is a surprise. Thank you so much to the Hollywood Foreign Press for this acknowledgement. I need to thank my co-writers, Jimmy Harry and Julie Frost, my co-producer William Orbit, who's not here, whom I adore.
I would also like to thank my manager, Guy Oseary, who I spend most of my time beating up on. But seriously, he harangued me for the entire time I was filming and editing my movie to write a song. And I said, 'Please, Guy, I'm trying to focus on being a director and I want people to pay attention to the film and I don't have time.' So then I finished the film and I started making my record and somehow magically and miraculously the song emerged, 'Masterpiece,' so thank you, Guy Oseary, for being so irritating."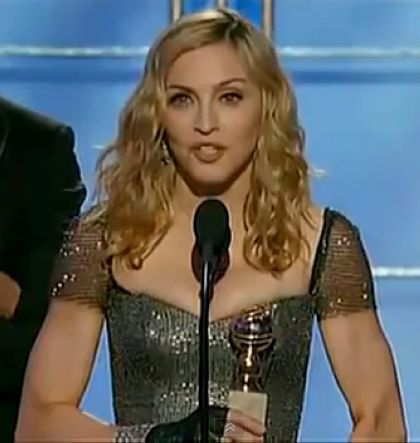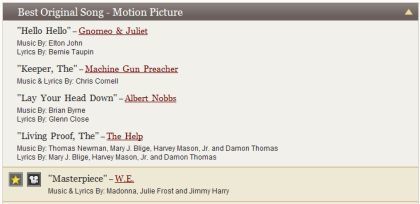 If you were the Mona Lisa
You'd be hanging in the Louvre
Everyone would come to see you
You'd be impossible to move
It seems to me is what you are
A rare and priceless work of art
Stay behind your velvet rope
But I will not renounce all hope
And I'm right by your side
Like a thief in the night
I stand in front of a masterpiece
And I can't tell you why
It hurts so much
To be in love with the masterpiece
Cause after all
Nothing's indestructible
From the moment I first saw you
All the darkness turned to light
An impressionistic painting
Tiny particles of light
It seem to me is what you're like
The "look but please don't touch me" type
And honestly it can't be fun
To always be the chosen one
And I'm right by your side
Like a thief in the night
I stand in front of a masterpiece
And I can't tell you why
It hurts so much
To be in love with a masterpiece
Cause after all
Nothing's indestructible
Nothing's indestructible
Nothing's indestructible
Nothing's indestructible
And I'm right by your side
Like a thief in the night
I stand in front of a masterpiece
And I can't tell you why
It hurts so much
To be in love with a masterpiece
And I'm right by your side
Like a thief in the night
I stand in front of a masterpiece
And I can't tell you why
It hurts so much
To be in love with a masterpiece
Cause after all
Nothing's indestructible
Cause after all
Nothing's indestructible