Madonna with Gwyneth Paltrow at Diane Von Furstenberg's Party, London
Madonna avec Gwyneth Paltrow à la soirée de Diane Von Furstenberg à Londres.

Diane Von Furstenberg's Star-Studded Party
24 June 2010 16:30:09
Legendary designer Diane von Furstenberg hosted a glamorous supper at London's Claridge's hotel last night (23.06.10), which attracted a host of A-list names, including Victoria Beckham, Madonna and Gwyneth Paltrow.
Diane von Furstenberg hosted a glamorous supper at London's Claridge's hotel last night (23.06.10), which attracted a host of A-list names.
The legendary designer held the exclusive event to celebrate her collaboration with the establishment, which will see her create and design 20 rooms in the hotel.
According to vogue.com, she told her guests: "I'm so happy you have all turned up and I have always loved Claridge's, like many of you I have had affairs in Claridge's, business meetings in Claridge's and many memorable moments here. There is just something about it - plus it's the only place they still say 'Highness' when I walk in those wonderful doors. I was very interested and intrigued when the idea came up for me to collaborate with them. I thought, 'Oooh, I might get a cheaper room.' "
Speaking about the work she is doing, Diane added: "It has been an amazing adventure. If walls could talk these rooms could write books and books and books - I wanted to respect that and the magic of this wonderful place. I've always loved this ballroom, I love you all and I love Claridge's. Let's not stop having affairs."
Guests at the event included Victoria Beckham - who has dressed in a mini leather bustier dress and thigh-high boots - Gwyneth Paltrow, Madonna and Tom Ford.
Source: Contactmusic News.

Gwyneth Paltrow and Madonna: DVF Darlings
Thursday, June 24, 2010
Posted by GossipCenter at 1:51 pm
They're both big fans of fashion, and last night (June 23) Gwyneth Paltrow and Madonna were spotted at the Diane Von Furstenberg party in London, England.
The "Shakespeare in Love" actress and the "Papa Don't Preach" songstress looked lovely as they posed for pictures at Claridges.
Von Furstenberg held the swanky celebrity-laden event to launch a series of print-filled suites she designed.
Diane addressed the crowd, "Like you, I've had affairs at Claridge's, and I've done business at Claridge's. If these walls could talk they would write books!"
Source: Celebrity Gossip.

Madonna expresses her masculine side in tailored power suit and shirt at designer launch party
By Sarah Bull
Last updated at 11:37 AM on 24th June 2010
She made the power suit famous in the eighties in her Express Yourself video.
And now it seems Madonna is determined to bring the trend back, as she was spotted wearing a masculine tailored suit and shirt in London last night.
The 51-year-old singer arrived at a launch party for fashion designer Diane Von Furstenberg at Claridge's Hotel wearing the outfit, which she teamed with a black fedora hat and black belt, which drew attention to her tiny waist.
But it wasn't only her Express Yourself suit that sparked hundreds of copies.
The singer has been hailed as a fashion icon for the majority of her career, although she admits she did make some style errors in the eighties.
Describing her most embarrassing outfit in a recent interview, she said: 'It was the purple lipstick, fluorescent-green sweater combo.
'It's OK, it was the eighties. It was a bad-hairstyle era. Let's face it!'
Other stars to attend the prestigious event last night included Victoria Beckham, Joan Collins and Gwyneth Paltrow.
Paltrow's appearance at the party suggests reports of a cooling in her friendship with Madonna are no longer true.
There were claims earlier this month that the pair had stopped speaking after a series of fall outs, which left Madonna out in the cold by her former best friend.
'They don't speak,' Us Weekly magazine quoted a source as saying. 'I can't tell you exactly why they had the falling out.'
However, both Gwyneth and Madonna looked happy and relaxed as they left Claridge's after the party last night - suggesting they have put their issues behind them.
Meanwhile, sketches of Madonna's junior fashion line, which she designed with 13-year-old daughter Lourdes, have been released.
While the outfits do include more than a hint of the singer's style, they have been toned down to suit younger women, and have also been inspired by Lourdes's style.
Madonna said in a statement: 'I really like the way Lola dresses, and I think this line is absolutely an extension of her taste.
'We mix and match textures and fabrics and elements that are both masculine and feminine.'
The Material Girl line, which will be sold exclusively in U.S. department store Macys, will be launched on August 3.
Source: Mail Online.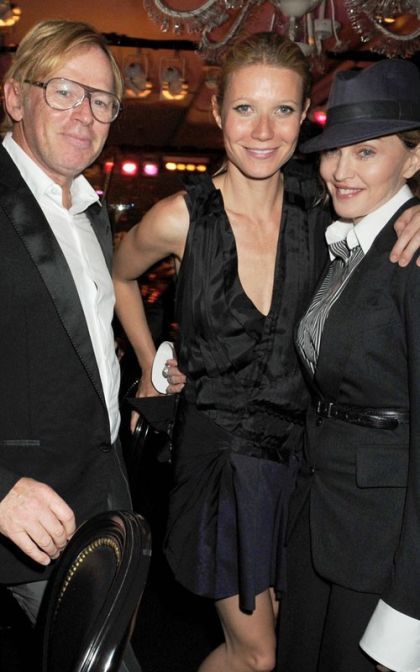 Madonna and Gwyneth Paltrow at the DVF launch party - June 23, 2010.
Friends again? Gwyneth Paltrow also attended the party, suggesting she and Madonna, who had allegedly fallen out, have put their issues behind them.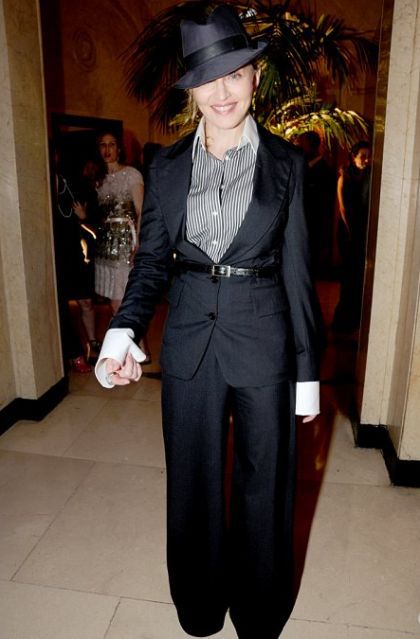 Power suit: Madonna wore a tailored black outfit and striped shirt to the Diane Von Furstenberg launch party at Claridge's last night.