Madonna with photographer Steven Klein in New York on January 20, 2012
Madonna avec le photographe Steven Klein à New York le 20 janvier 2012.
The whole brood's out tonight! Madonna makes time for her four children during family time in New York
By Alanah Eriksen
Last updated at 2:57 PM on 21st January 2012
She's had a busy couple of weeks as she promotes her new movie, picked up a Golden Globe, and fended off cutting remarks by fellow celebrities.
But Madonna made time for her four children yesterday as she took them to see her long-time photographer friend, Steven Klein.
The original Material Girl, 53, wrapped up in the New York weather in a hooded black jacket, with her eldest Lourdes, 15, following close-behind in a coat with fur trim.
There was no sign of the singer's much-younger boyfriend Brahmin Zaibat during the family's night out.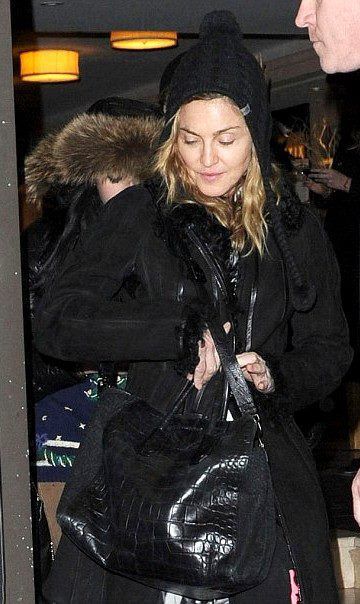 Me and my crew: Madonna was seen out with her four children, including daughter Lourdes (obscured) and photographer friend Steven Klein in New York City.