Madonna would love to see ''Madonna: The Musical'' in production
Madonna adorerait voir "Madonna: The Musical" se produire.

From Daily Star:

MADONNA: I'LL GIVE IT UP FOR LOVE!
13th January 2012
By Jessica Brown with Sonja Stephen
GLOBAL pop icon Madonna would give up her glitzy showbiz lifestyle if she found Mr Right.
The Queen of Pop is finally ready to settle down but her knight in shining armour has yet to arrive.
Speaking at the London premiere of her latest movie, Wallis Simpson biopic W.E, Madonna told us: "I would consider giving up the fame for true love.
"I'm not sure I ever said I wanted a love like Wallis's love though.
"Their love in the film is about an imperfect love that can't compromise.
"I would let go of fame for true love, though."
The music legend, 53, wowed everyone at the Odeon theatre in Kensington, waltzing down the red carpet in a gothic-inspired black Jean Paul Gaultier dress and Dolce & Gabbana cape.
The Material Girl also revealed she would love to see Madonna: The Musical in production.
She told us: "I'd sanction my songs to be made into a musical, I kind of already have. But I wouldn't do it myself, I don't think that would interest me."
Everyone is always commenting on Madge's youthful looks and we would certainly like to know how the jefferies she looks at least 15 years younger.
She lifted the lid, and no, not revealing it was Botox, multiple face lifts or bathing in elephant's semen. "What's my secret? Love," she said.
"I don't know. I don't have a secret, fairy dust and lots of it."
"The most important thing is being happy."
Meanwhile, she admitted she had "no idea" the name of her new album MDNA sounded like a Class A drug saying:
"I wasn't aware of it, it's just my name.
"I don't know what you guys are on, baby!"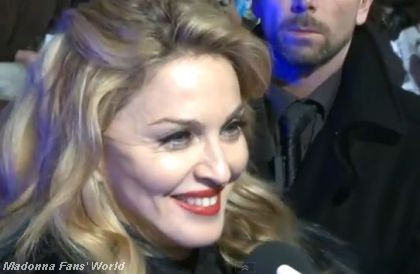 Madonna at UK premiere of "W.E." at the Odeon Cinema Kensington in London on January 11, 2012.