Malawi President pardons jailed gay couple
Le Président du Malawi pardonne le couple homosexuel emprisonné.


by Griffin Shea Griffin Shea – Sat May 29, 11:30 am ET
LILONGWE (AFP) – Malawi's President Bingu wa Mutharika on Saturday announced the pardon of a gay married couple jailed for 14 years after holding a same-sex wedding, following talks with UN chief Ban Ki-moon.
"I have decided that with effect from today, they are pardoned and they will be released," Mutharika told reporters as he sat beside the United Nations secretary general.
"From a humanitarian point of view, they are released and pardoned forthwith."
Ban commended the lifting of the sentence, which had been met with outrage and alarm by the United States, Europe and rights groups, and called on Malawi's parliament to change the country's laws.
Last week a Blantyre court sentenced Steven Monjeza, 26, and his 20-year-old partner Tiwonge Chimbalanga to 14 years hard labour for sodomy, after they were arrested on December 28 following a symbolic wedding.
"I do appreciate and commend the very courageous decision to pardon these two gay boys," Ban said, adding, "This outdated penal code should be reformed wherever it may exist."
"Any harassment or violation or discrimination against people based on sexual orientation is discriminatory. It's against international human rights law," Ban said.
In an address to parliament, he called on lawmakers to change the legislation regarding gay sex, which is illegal in Malawi and a majority of African countries.
"I am confident that Malawi will take appropriate steps to update its laws in a way that lives up to international standards," he told a press conference afterwards.
Ban said Mutharika had told him that he been considering a pardon.
"President Mutharika told me it is not because of foreign pressure but he is exercising his presidential power," he said.
The May 20 ruling was condemned by Western countries with the United States saying it was "appalled", and former colonial power Britain saying it was "deeply dismayed".
Leading AIDS campaigners also voiced concern that the jailing could hurt the fight against the disease, widespread in southern Africa, by forcing gay men underground.
But the couple's case shocked Malawi's conservative society, where sex topics are still largely taboo.
Handing down sentence on May 20, magistrate Nyakwawa Usiwa Usiwa told the two men that the maximum punishment with hard labour was to serve as an example to Malawians.
"I will give you a scaring sentence so that the public be protected from people like you so that we are not tempted to emulate this horrendous example," the judge added.
"Malawi is not ready to see its sons getting married to its sons."
In January, the couple had appealed to the Constitutional Court to toss out the case, but the top court refused to hear the appeal.
"They injured our traditions and culture," Mutharika said Saturday before announcing the pardon.
"They challenged our laws in this country. These two gay boys were wrong," he said.
Thirty-eight out of 53 African countries criminalise consensual gay sex, which is punishable by death in some nations, according to Human Rights Watch.
Nearby South Africa is the only country in the continent to recognise same-sex marriages.
Source: AFP.

Malawi: grâce présidentielle pour le couple gay condamné à 14 ans de prison
29/05/2010
Le président du Malawi a gracié samedi et ordonné la libération "pour des raisons humanitaires" d'un couple homosexuel condamné à 14 ans de prison et de travaux forcés la semaine dernière pour avoir célébré son "mariage".
Bingu wa Mutharika a fait cette annonce lors d'une conférence de presse à Lilongwe, la capitale, aux côtés du secrétaire général des Nations unies, Ban Ki-moon.
"Ces garçons ont commis un crime contre notre culture, contre notre religion, contre nos lois. Toutefois, en tant que chef de l'Etat, je leur accorde ma grâce et ordonne donc leur libération immédiate et sans conditions", a déclaré le président. "Nous n'approuvons pas les mariages de cette nature. C'est inédit au Malawi et c'est illégal", a-t-il toutefois insisté.
M. Ban a salué la grâce mais a déploré "que des lois fassent des gens des criminels à cause de leur sexualité" et estimé que "les lois faisant de la sexualité un crime doivent être abrogées".
Tiwonge Chimbalanga, 26 ans, et Steven Monjeza, 20 ans, avaient été condamnés le 20 mai à la peine maximale prévue par la loi malawite, après avoir été reconnus coupables d'actes contre-nature et d'indécence grave. Le procès avait été suivi par une foule qui avait copieusement insulté le couple.
Les deux jeunes gens avaient été arrêtés le 27 décembre, au lendemain de la fête qu'ils avaient organisée pour célébrer leur engagement mutuel.
Interrogé par l'Associated Press, un porte-parole de la prison a déclaré ne pas avoir reçu d'ordre de libération du couple. Un militant des droits des homosexuels au Malawi, Undule Mwakasungure, a expliqué à l'AP qu'il espérait avoir jusqu'à lundi ou mardi pour trouver un endroit sûr où loger Tiwonge Chimbalanga et Steven Monjeza sans qu'ils risquent de se faire agresser. "Il y a de l'homophobie. Je pense qu'ils pourraient être attaqués", a-t-il dit, envisageant même de leur faire quitter le pays au moins temporairement.
De nombreux pays ont critiqué la condamnation du couple gay, dénonçant un recul des droits de l'Homme au Malawi. Le gouvernement et les autorités religieuses de ce pays conservateur du sud de l'Afrique avaient en revanche salué la décision de justice.
L'homosexualité est illégale dans au moins 37 pays d'Afrique, dont le Malawi, et si l'Afrique du Sud a légalisé le mariage homosexuel, cette ouverture est très critiquée par les pays voisins, et des lesbiennes y ont été victimes de viols collectifs. L'Ouganda étudie quant à lui un projet de loi permettant de condamner les homosexuels à la prison à perpétuité, voire à la peine de mort en cas de "récidive".
Source: AP.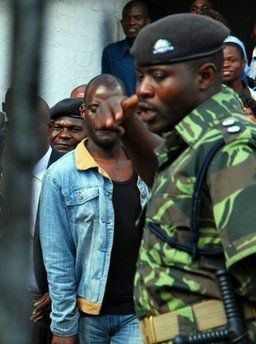 Tiwonge Chimbalanga (C) is escorted to a police vehicle outside the magistrate court in Blantyre on May 20. Malawi's President Bingu wa Mutharika has announced the pardon of a gay married couple jailed for 14 years after holding a same-sex wedding, following talks with UN chief Ban Ki-moon.
Photo: AFP/Eldson Chagara.