Mandy Gonzales tells her meeting with her idol Madonna
Mandy Gonzales raconte sa rencontre avec son idole Madonna.

Actors Tell of Early Meetings With Their Idols
You Never Forget That Star-Struck Encounter With Your Idol
By ERIK PIEPENBURG
Published: September 1, 2010
Two recent Off Broadway plays — A. R. Gurney's "Grand Manner" and Jonathan Tolins's "Secrets of the Trade" — explore what happens when showbiz-besotted fans meet their idols. Sometimes a backstage encounter with a star is life changing; visiting on an off night can be awkward and awe draining. (Mr. Gurney's actual meeting with the actress Katharine Cornell was quite brief, though the play imagines a very different outcome to that encounter.)
Erik Piepenburg asked several actors to reminisce about their own brushes with celebrity greatness. Following are excerpts from their conversations.
MANDY GONZALEZ plays Elphaba in "Wicked" at the Gershwin Theater.
"I was about 9 years old. I got this job in a Pepsi commercial tied to Madonna's "Like a Prayer" video. The idea was that she was in this Pepsi studio, but she was thinking back to when she was a kid. I was in a birthday party scene. They had me wear this horrible tomboy outfit, while all the other kids got to wear dresses. I remember Madonna came in to see all the kids. I was really shy, but she singled me out and held my face and said, "Doesn't she look like somebody?" It was super cool.
That was the only contact we had with her. When the video came out and it was so controversial they canceled the commercial. I think it ran, like, once."
Source: NYTimes.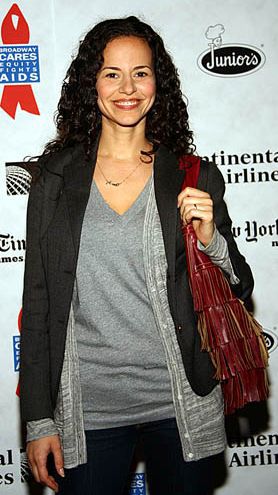 Mandy Gonzales