Marc Jacobs explaining why he banned Madonna from attending his défilé
Marc Jacobs expliquant pourquoi il a interdit à Madonna d'assister à son défilé.

Designer Marc Jacobs set to launch plus size collection
By Tamara Hardingham-gill
Last updated at 9:03 PM on 4th August 2010
Is fashion designer Marc Jacobs preparing to launch a plus size collection?
The answer is 'Yes', according to his business partner Robert Duffy, whose remarks have caused a stir in the fashion world.
'We are in talks now. For plus sizes.' Duffy confirmed via Twitter. 'Listen, we are in the very beginning stages of talking to a partner about plus sizes. Relax. It won't be based on the collection line.'
The announcement came as Duffy revealed his own frustrations on buying clothes.
'I'm a big guy 6ft 4in, 210 lbs. [It's] not easy for me to find clothes,' he wrote.
'Of course I can have them made. I know how everyone feels. I try to diet but... I don't like the phrase plus-sizes. Any suggestions?"
'Your right. We gotta do larger sizes,' he added.' I'm with you. As soon as I get back to NY. I'm on it! It will take me about a year. But stay with us.'
News that a high profile designer is to begin tailoring clothes for larger sizes will no doubt reignite the ongoing plus-size debate and perhaps provide some hope that the size zero phenomenon may be on its way out.
Earlier this month US department store Saks announced it would be adding a plus size couture to its clothing selection.
The brand has worked with 'well-known designers' to create autumn/winter items with sizes going up to a US 16 or 18 (a UK 20 or 22).
Saks Fifth Avenue in New York houses collections from the world's most exclusive and celebrated designers.
Fashion powerhouses such as Chanel, Dolce & Gabbana, Akris, Armani, Carolina Herrera, Escada, Donna Karan, St. John, Oscar de la Renta, Max Mara, Valentino, Michael Kors, Yves Saint Laurent, Alexander McQueen, Fendi and Roberto Cavalli can be found covering the floor space of the internationally revered store.
The decision came after plus-size model Crystal Renn's backlash against the Fashion for Passion campaign shots taken by photographer Nicholas Routzen, in which she was dramatically retouched.
Jacobs caused a stir during New York fashion week in February when he banned celebrities from attending.
The designer, whose 2009 show saw Madonna pose alongside pop princess Lady GaGa, explained: 'I think that at that moment in time, that's what people loved. It generated so much press [but] at a certain point it was like, "Did anybody actually watch the show?"'
He revealed that Madonna had 'just called and said she was coming, and we weren't holding the show for her... there are certain things I can't control.'
Source: Mail Online.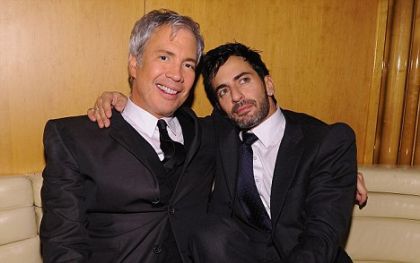 Announcement: Marc Jacobs's business partner Robert Duffy, pictured with him earlier this year, has suggested that they will launch a plus-size collection.