Material Girl Madonna and her 25 pieces of luggage
Madonna et ses 25 pièces de bagages.
Madonna flew into London's Heathrow airport yesterday along with more than 25 pieces of luggage.
Published: 8:50PM BST 30 Mar 2010
The Material Girl looked pale and tired as she stepped off the plane from New York clutching the hands of her two adopted children, David Banda, four, and Mercy James, also four.
But even more exhausted were the two porters tasked with transporting her luggage. They were pictured struggling to shift two trolleys laden down with bags through Terminal 3.
Among them, there appeared to be a cold box – the singer is notoriously fussy about her food – along with suit bags and a series of Louis Vuitton cases.
The 51-year-old star previously lived in the UK permanently when married to film director Guy Ritchie. But the marriage went sour and Madonna left the couple's Wiltshire home to move back to the States just under a year ago.
Now, it now appears she could be moving back and is thought to be settling in Marylebone in central London for six months.
The star will be directing a new film, W.E, which centres on the 1930s romance between Edward VIII and the American divorcee Wallis Simpson.
Source: Daily Telegraph.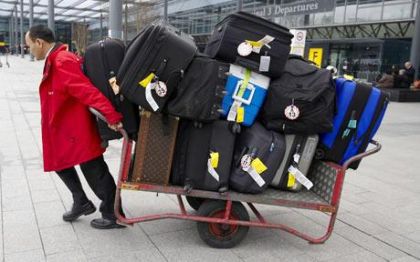 The first of 2 trollys loaded with luggage belonging to Madonna arrive at Heathrow Airport.
Photo: MATRIXPHOTOS.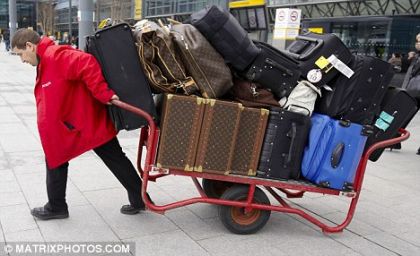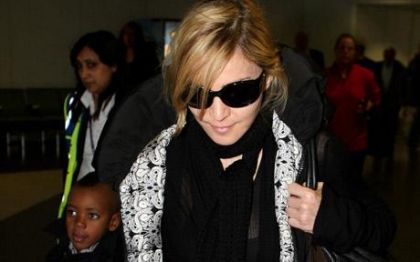 Madonna lands at Heathrow Airport with her son David Banda.
Photo: PA.