Matthew Morrison covers 'Like A Virgin' in the Madonna episode of Glee
Matthew Morrison reprend 'Like A Virgin' dans l'épisode Madonna de 'Glee'.

'Glee' covers Madonna's 'Like a Virgin', Aerosmith
Monday, March 15, 2010
Posted by Corinne Heller at 09:56:38 AM
Glee's teacher love story may be heating up..thanks to Madonna. And Will Schuster and Neil Patrick Harris are going to go at it, with the help of Aerosmith, when the hit show returns on April 13.
"In the Madonna episode, Jayma (Mays), who plays Emma, and I are going to be singing "Like a Virgin" and it's..might, may or may not be consummating our affection for each other," said Matthew Morrison, who plays nerdy club director Schuster.
Morrison spoke to On The Red Carpet correspondent Chi-Lan Lieu at a recent event for FOX's hit musical sitcom at the Paley Center for Media in Los Angeles and also said the show will show a "darker side" of Will Schuster.
Meanwhile, he and Neil Patrick Harris, of How I Met Your Mother and Doogie Howser fame will sing an Aerosmith song together.
"It's a hate song," he said. "We're going at it."
Source: On The Red Carpet.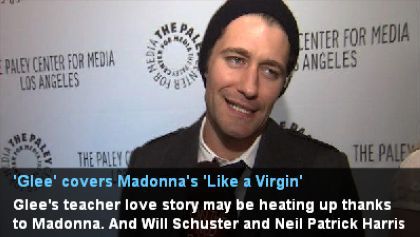 Matthew Morrison

Watch his interview below: