McGregor, Farmiga, producer and more leave Madonna's ''W.E.''
McGregor, Farmiga, un producteur et d'autres quittent "W.E." de Madonna.

Stars abdicate from Her Madge's royal film
By Baz Bamigboye
Last updated at 10:40 PM on 6th May 2010
Madonna has been in a boiling rage after a crisis hit her film about Edward VIII's Abdication.
Two of the stars she was wooing - Ewan McGregor and Vera Farmiga - have turned her down.
The singer had wanted McGregor to portray the king who gave up his throne to marry the woman he loved, the twice-divorced American Wallis Simpson.
Madonna had asked Ms Farmiga - best-known for her leading lady roles in Oscarwinning film The Departed and Academy Award-nominated picture Up In The Air - to play the woman who became the Duchess of Windsor.
McGregor had brief talks, which didn't proceed, while Ms Farmiga had to decline to work with Her Madge on the royal tale for what have been described as 'private, family' reasons.
There was further pandemonium behind the scenes of the film, titled W.E. (as in Wallis and Edward), when one of the key producers and a distinguished casting director quit due to 'creative differences', blamed on Madonna and her meddlesome underlings.
The producer David Parfitt, who won a Best Picture Oscar for John Madden's Shakespeare In Love, has left W.E., as has casting-chief Nina Gold. Others may follow.
One crew member still working on the project told me that Madonna finds it impossible to collaborate and delegate, which is fatal because feature film-making is a team effort.
As someone close to the movie noted: 'All directors are demanding - there's nothing new there - but there's an art to doing it with grace and good manners.'
W.E. is part fantasy, part historical fact - or at least the facts according to Her Madge.
The film focuses on Wally Winthrop, a contemporary, New York-based woman who is obsessed with the Duke and Duchess of Windsor and everything about the constitutional crisis that erupted over their relationship.
Wally is visited by a ghostly apparition of the Duchess and, at one point, the script (by Madonna and Alex Keshishian) has the Duchess swaying, with her pugs, to the Sex Pistols' songs Anarchy In The UK and God Save The Queen. The question is: who will step in to help Her Madge save W.E.?
Source: Mail Online.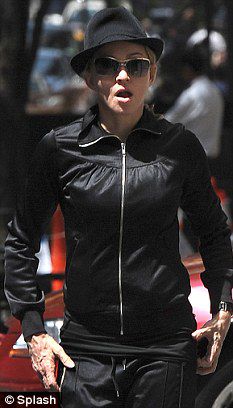 Madonna has been in a boiling rage after a crisis hit her film about Edward VIII's Abdication.