Méditation sur Madonna.
Meditation on Madonna: Material girl went 'Vogue' during controversial '90s work
Published: Tuesday, January 31, 2012, 2:50 PM
Updated: Tuesday, January 31, 2012, 4:03 PM
By Justin L. Engel | The Saginaw News

BAY CITY — Madonna had the template set for her by plenty other female musicians who climbed the Billboard charts in the early 1980s: Cash in on the rebellious femme pop music championed by the likes of herself, Cyndi Lauper and Pat Benatar, and then cash out.
Instead, the girl born in Bay City as Madonna Louise Veronica Ciccone, reinvented herself to appeal to the ever-changing sensibilities of music fans.
It's an ability many pop music critics credit Madonna for when explaining why she remains relevant today – relevant enough that she will perform during halftime of Sunday's Super Bowl.
As that halftime performance nears, The Bay City Times and Saginaw News will reflect on the many iterations of the "Material Girl," from her days singing "Like A Virgin" to her collaboration with today's top acts including Nicki Minaj and Kanye West.
While how best to separate the mid-Michigan native's career transformations remains a debatable subject, we will recognize four eras of Madge over four days.
Then, on Friday, MLive readers can vote which "version" of Madonna they prefer. On Super Bowl Sunday, the results will be posted online.
On Monday, we highlighted Madonna's earliest work. Today, we focus on her years going "Vogue," a song she reportedly plans to perform on Sunday.
While "Vogue" – a single off her 1990 album, "I'm Breathless" – was arguably the second act of Madonna's anthem, her transformation began during the previous year's album, "Like A Prayer."
It was that record's title song, and the music video that accompanied it, that propelled Madge from the fun, flirty 20something of her "True Blue" days to the statement-making woman who defined much of her early 1990s work.
"Like A Prayer" dealt with issues of race and religion – particularly the music video, which featured burning crosses, a black man crucified and a rape scene.
The song's album also featured "Express Yourself," in which Madonna seemed to ditch her message on "Material Girl" and instead called for female empowerment with lyrics such as, "You don't need diamond rings/Or 18-karat gold/Fancy cars that go very fast/you know they never last/no no."
Madonna stayed on the theme of self-liberation -- but ramped it up to risque levels -- with 1990's "Justify My Love," a slow-moving, sexual roll call. Again, the music was punctuated by a music video, which this time famously was banned by MTV for its graphic sexual imagery.
Her 1993 album, "Erotica," continued Madonna's message of liberation from sexual restraint. As a companion piece to the record, she released a coffee table-sized book titled, simply, "Sex." Its pages featured what today would be considered softcore pornographic images.
Return to MLive Wednesday to examine "Evita"-era Madonna.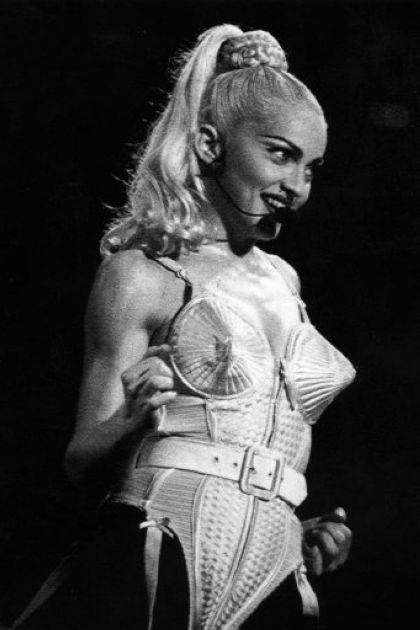 Madonna touched on controversial subjects -- and wore controversial attire -- during her concert performances beginning in the early 1990s.