More on actress Abbie Cornish: interview
Plus sur l'atrice Abbie Cornish: interview.

Cornish's limitless pursuits
By LIZ BRAUN, QMI Agency
NEW YORK -- Someone who directed Abbie Cornish early on in her career described the actress as being, "Filled with light." It wasn't just her luminous beauty they were talking about.
In the way of intellect and empathy, Australia's golden girl, 28, really does seem lit from within. Cornish manages to be simultaneously soft-spoken and intense in conversation, and she's currently talking about Limitless, a thriller that sees co-star Bradley Cooper go from zero to hero courtesy of a new, experimental drug. One day he's a scruffy unemployed writer, and the next he's all charm, sophistication and success. Too bad people would kill for the drug ...
Cornish plays the girlfriend and the moral compass of the movie.
"You want to have a journey to go on, as an actor," she says, "and I felt this character had room to evolve and grow." As for the morality of the story's fictitious drug, a medication that would let the user employ 100% of his or her brain, Cornish takes an adventurer's view. After all, most of us have lists of things we want to accomplish, she points out. "So a drug that lets you read a novel in 30 minutes or learn to play the piano overnight -- I don't know that I'd say no to a drug like that," she says, playfully.
She's the last person who'd need it. Cornish has led an independent life since she was about 16 and along with being an actress, she's a model, lyricist, painter, rapper and poet. She's also a seasoned world traveller.
Cornish grew up on a farm in Australia, and says her idyllic childhood was key to her adult pursuits.
"I grew up on 170 acres, with four other brothers and sisters. I'm second oldest," she says. "We grew up on a huge playground, a physical, mental and spiritual playground. It was so beautiful. Our imaginations were constantly allowed to play and exist and evolve. I think growing up on the farm, surrounded by nature and animals, was hugely important."
Cornish greatly admires her mother, who is a painter. At home, she and her siblings were not immersed in popular culture. "I hadn't really been exposed to that world of television, film, Internet, magazines," she says, adding that made her first real acting role seem almost otherworldly. She was 15, and had a guest part on a TV series.
"When I was on set the first day, it was incredible to me. I felt like I'd stepped through the television into the outside! I loved it, loved working with all the different people who did all these different jobs, and how it all came together. I loved that moment between action and cut. I don't even know what you'd call it, just that sort of infinite moment in time that will never change and is unpredictable. It's such a wonderful feeling. That's when I realized there was something there I wanted to keep doing."
A committed vegetarian since she was 13, Cornish continued studying with a career goal of veterinarian, even as she quietly became a lauded actress at the same time. Besides appearing on Australian TV (and winning awards for it), she made her film debut in The Monkey's Mask (2000). In 2004 she was the lead in Somersault, a film that gave her wide recognition and more awards, and since then she's appeared in such films as Candy, Elizabeth: The Golden Age, A Good Year, Stop-Loss, and Bright Star. She also voiced a character in Legend of the Guardians: The Owls of Ga'Hoole. She's in Sucker Punch, which opens this year, and has finished working with Madonna ("She's a natural director, that's for sure.") on the film W.E.
Despite feeling a bit of homesick, Cornish is happy living in Los Angeles and says, "I have a nice balance with family, friends, what I do as an actor, painting, music, time on my own. I really love people, I really enjoy life and I'm so happy to be here on this earth," she says, earnestly.
Cornish likes spending time with other creative people in L.A. but says she's also content with her own company. "Growing up in the country, growing up with so much space around me and with such a wonderfully strong, independent mother, I always have been comfortable with being alone, too," she says. "When you're creative, it's easier to have that time alone. You're always in the company of what you are creating."
Source: 24 Hours Vancouver.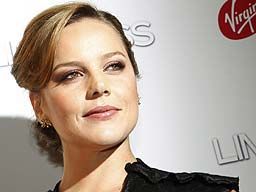 Actress Abbie Cornish arrives for the world premiere of "Limitless" in New York March 8, 2011.
Photo: REUTERS/Brendan McDermid.