More on Madonna's personal chef book: ''Mayumi's Kitchen''
Plus sur le livre de la chef personnelle de Madonna: "Mayumi's Kitchen".

Mayumi's Kitchen: Macrobiotic Cooking for Body and Soul
Mayumi Nishimura (Author)
Hardcover: 160 pages
Publisher: Kodansha International; 1 edition (June 1, 2010)
Language: English
ISBN-10: 4770031106
ISBN-13: 978-4770031105
Product Dimensions: 10 x 7.8 x 0.8 inches
Macrobiotics--the healthy, nature-friendly way of life based on a diet of whole grains, vegetables, and beans--is now a global phenomenon. In recent years a number of Hollywood stars have taken up the macrobiotic diet because of its many benefits, which include higher energy levels, beautiful skin, a tranquil mind, and a greater sense of connection with the universe. In Mayumi's Kitchen, the woman who worked for seven years as Madonna's private macrobiotic chef shares with the world her dazzling recipes.
Mayumi Nishimura's unique style of cooking is healthful, intuitive, and easy to stick with. She draws her inspiration not only from Japanese food, which she grew up eating, but also from Chinese, French, Italian, and any number of other world cuisines, as well as from macrobiotic traditions. She believes that enjoyment, above all, is the key to sustainable healthy eating, and that means adapting her cooking to cosmopolitan tastes. The reader will thus discover in her book a number of familiar-looking dishes prepared with macrobiotic as well as more conventional ingredients, in both Western and non-Western styles.
The centerpiece of Mayumi's Kitchen is her ten-day detox diet. Here readers can enjoy a macrobiotic menu that will transform them from the inside out. Following this are meal-planning tips and recipes for more than fifty dishes, including such favorites as Salmon Soup, Avocado Rolls, Vegetable Lasagna, and Seitan Pot Stickers. There is even a party-food section with recipes for spring rolls, tempura, pizza, and more.
In all, Mayumi introduces more than 130 mouthwatering recipes, all lavishly illustrated with color photographs. Many are explained in terms of their nutritional value or energy quality, and unfamiliar techniques are made clear with step-by-step pictures. For beginners and lifelong macrobiotic practitioners alike, these dishes will wow and delight.
- From Publishers Weekly:
The concept of following a macrobiotic diet might sound daunting, but Nishimura—who worked as Madonna's private chef for seven years (and had her former boss write a foreword for this book)—breaks it down into simple, can-do steps and recipes. She suggests kicking things off with a 10-day detox diet, which includes such macrobiotic staples as soft-cooked brown rice, miso soup with shiitake mushrooms and herbs, and udon salad. She demystifies exotic ingredients like mochi and hijiki, and saves work for followers of the detox plan by precisely explaining how to use leftovers. After the detox diet, there are straightforward meal-planning tips and dozens more recipes, including wild arugula and artichoke heart salad; creamy potato and leek soup; sea bass with green lentils; pan-fried fish cakes with tofu tartar sauce; and almond jewel cookies. And Nishimura's menus for specific goals—beautiful skin, weight loss, and muscle building—guide readers to the foods that work best for their needs. (June)
- From Mayumi's Kitchen: Brownies
These brownies proved incredibly popular with Madonna's back-up dancers, whom I sometimes made snacks for while on tour. Brownies have since become a favorite birthday treat. Makes one 8 × 8-inch (20 × 20-cm) pan.
Dry Ingredients
1 cup (110g) unbleached white flour or barley flour
1/2 tsp baking powder
1/2 cup (80g) maple sugar
1/4 cup (20g) cocoa powder
1/2 cup (90g) sugarless chocolate chips
Wet Ingredients
2 Tbsp unsweetened soymilk
1/2 cup (120ml) rapeseed oil or other vegetable oil
1/2 cup (120ml) maple syrup
1 tsp vanilla
Sea salt, to taste
Directions
1. Preheat oven to 350°F (180°C).
2. Oil a Pyrex or other square ovenproof pan. Or, for easier cleanup, line the pan with baking paper.
3. Place all DRY INGREDIENTS in one bowl and all WET INGREDIENTS in another. Mix well separately, then add the WET INGREDIENTS to the DRY INGREDIENTS and mix just enough to blend, using a spatula to prevent lumps.
4. Transfer to the pan, place on the middle rack of the oven, and bake for 20 minutes (time may vary depending on the oven; test for doneness with a toothpick). When a toothpick or cake tester comes out clean, remove from oven.
5. Allow to cool before cutting into squares and removing from the pan.
- From Mayumi's Kitchen: Strawberry Tempeh Smoothie
I invented this recipe for a Japanese TV show. They wanted me to demonstrate how to use tempeh in several different ways. It tastes wonderful and feels healthier than store-bought protein drinks. For a sweeter flavor, add 1 tablespoon of maple syrup or any natural sweetener of your choice. Serves 2.
Ingredients
1 oz (30g) tempeh, steamed
8 to 10 strawberries
2 cups (480ml) rice milk
1/4 tsp vanilla
1/8 tsp maca powder (optional)
1/8 tsp sea salt
Directions
1. Steam the tempeh for 15 minutes.
2. Puree all ingredients in a blender until smooth.

Read also:
Interview with Madonna's former personal chef: Mayumi Nishimura

Lire aussi:
Interview de l'ancienne chef de cuisine personnel de Madonna: Mayumi Nishimura.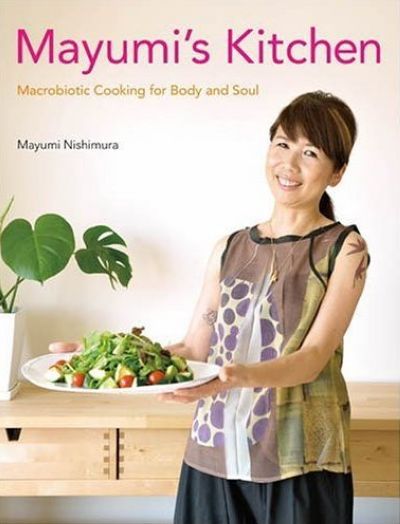 In Mayumi's Kitchen, the woman who worked for seven years as Madonna's private macrobiotic chef shares with the world her dazzling recipes. Her former boss write a foreword for this book.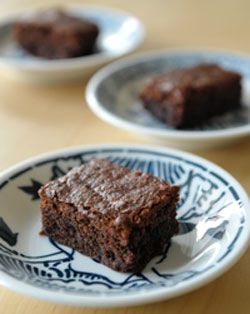 These brownies proved incredibly popular with Madonna's back-up dancers.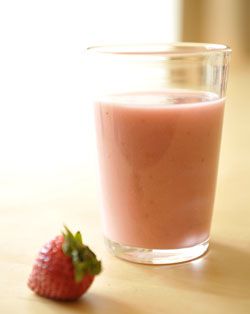 Strawberry Tempeh Smoothie