More on 'Music Icons' auctions with Madonna
Plus sur les enchères de 'Music Icons' avec Madonna.

MUSIC ICONS EXHIBITION
Monday, June 13- Friday, June 24, 2011
10am-5pm PDT, Monday through Saturday
Free to Public – Closed on Sundays
LIVE AND ONLINE AUCTION
Saturday, June 25th and
Sunday, June 26th, 2011
At Julien's Auctions Beverly Hills

- Music Icons Auction
Julien's Auctions of Beverly Hills is proud to present The Music Icons auction on June 25 and 26, 2011. The epic auction when spans decades of music and the careers of 100's of artist. Over 600 items representing the biggest names in rock-n-roll, Motown, jazz, country, pop and other genres are represented and include such legendary greats as Michael Jackson, The Beatles, Janis Joplin, Jimi Hendrix, Eric Clapton, Kurt Cobain, Madonna, Frank Sinatra, Garth Brooks, The Grateful Dead, Ozzy Osbourne, Bruce Springsteen, Bob Dylan, The Ramones, Elvis Presley, Fleetwood Mac , Justin Bieber, Lady Gaga and more.
You will not want to miss the sale of the 20th Centuries most iconic piece of pop culture ephemera – Michael Jackson's "Thriller" video worn jacket. We know of no other jacket that is so easily recognizable or one that so altered fashion history. The perfect companion for this jacket is Jackson's "Thriller" MTV Video Music Award moonman for the choreography of the groundbreaking video in which he wore this jacket.
From crooners to pop, rock to punk Julien's has something for all your musical tastes. If your musical heroes like to break things we have for you a music stand broken by Kurt Cobain, John Entwhistle's guitar that somehow survived Pete Townshend's violence on the stage of the Smothers Brothers Comedy hour in 1967, even Bruce Springsteen broke the head off his Takamine and these artifacts of musical passion can be yours.
The roots of rock and roll are arguably in guitars and the musicians who played them. Guitars featured in this sale were: played by Elvis Presley, signed by Paul McCartney, Johnny Cash, Eric Clapton and Les Paul, crafted by artisans at Gibson, Gretsch and Taylor are all offered for sale.
JULIEN'S AUCTIONS MUSIC ICONS EXHIBITION:
Monday, June 13- Friday, June 24, 2011
10am-5pm PDT, Monday through Saturday
Free to Public – Closed on Sundays
AUCTION SCHEDULE:
Saturday, June 25, 2011
Session I: 10am PDT
Session II: 2pm PDT
Sunday, June 26, 2011
Session III: 10am PDT
LOCATION:
Julien's Auctions Beverly Hills
9665 Wilshire Boulevard
Suite 150
Beverly Hills, CA 90210
For more information email info@juliensauctions.com
or call 310-836-1818.
Registering to Bid
Registration is required to bid in this live auction and can be done either in person at the exhibitions and auction or by registering to bid before the sale or by calling (310) 836-1818.
Placing Bids
There are four ways to bid in this sale:
1.Bid through Julien's Auctions Online Live in Real Time at JuliensLive.com.
2.Place bids in the room by attending the auction.
3.Bid over the telephone through an auction house representative, who sits in the room and conveys the bid to the auctioneer.
4.Enter Absentee bids. Absentee bid forms are printed in the back of each catalogue, and are also available by calling Julien's Auctions or online at juliensauctions.com.

- 2011 Music Icons Auction Catalog
Order your copy of the limited edition Music Icons 2011 fully-illustrated color catalog. The catalog includes Michael Jackson's "Thriller" video jacket. This jacket, that changed fashion history, is the most recognizable article of clothing of the 20th century. It is featured among an array of items from Jackson's career and personal life including his "Thriller" Video Choreography MTV video music award.
The auction is comprised of items from the beginning of Rock and Roll to the present day. Among the items featured are: Frank Sinatra's Jaguar, Ringo Starr's cape from The Beatles film Help!, stage worn clothing from Bruce Springsteen, a stage played on by Jimi Hendrix, a Jimi Hendrix handwritten music score, U2's MTV moonman for their seminal hit song "With or Without You," and a Bono signed Gretsch.
Michael Jackson's female equivalent in the 1980s was Madonna, and a collection of items from her personal life and career extend over thirteen pages of this one-of-a-kind catalog.
All the greats are here — Elvis Presley, The Beatles, Bob Dylan, Pete Townshend, Kurt Cobain and so many more in this artfully designed coffee table worthy catalog.
Buy the catalog here (price: $75.00)
Source: Julien's Auctions Beverly Hills.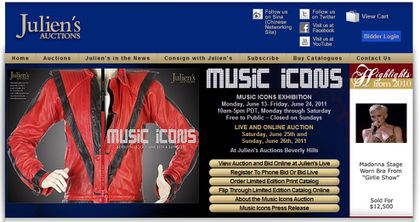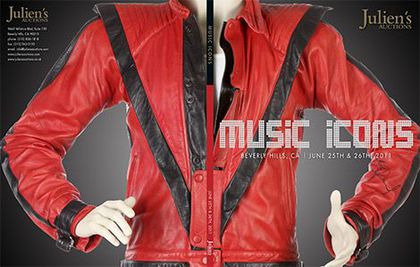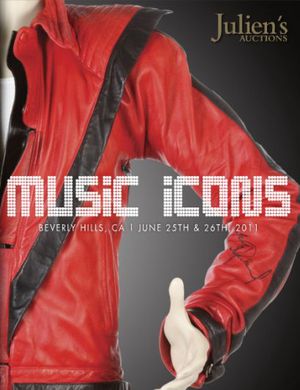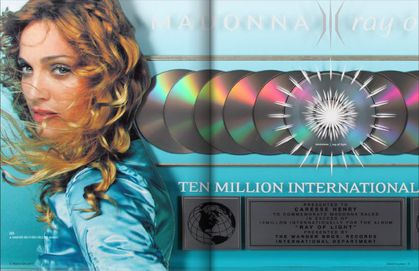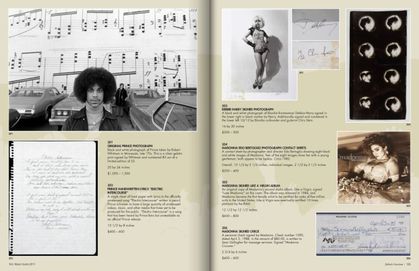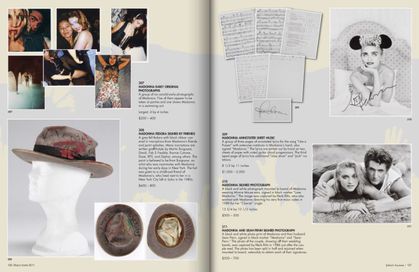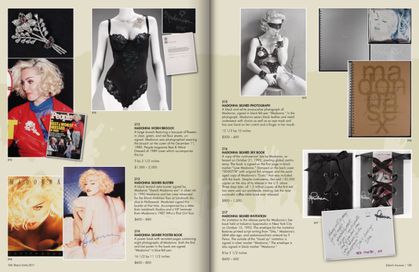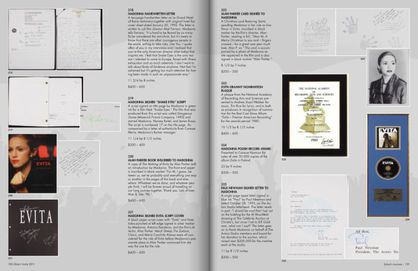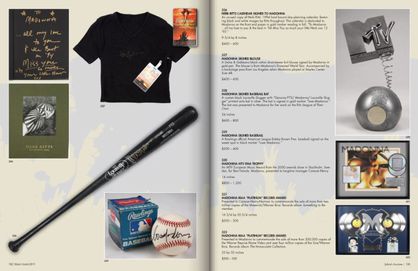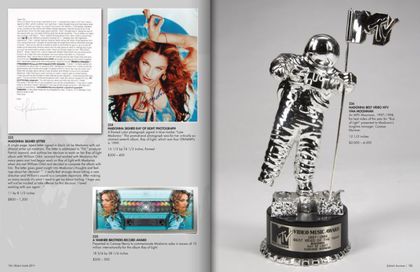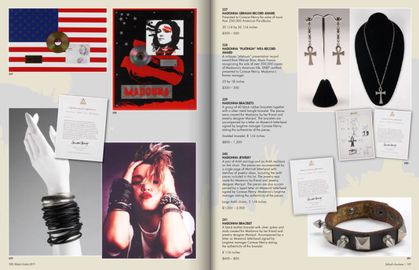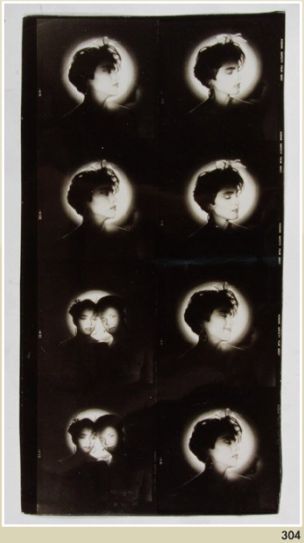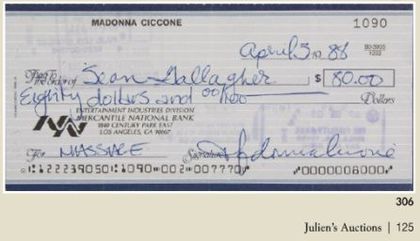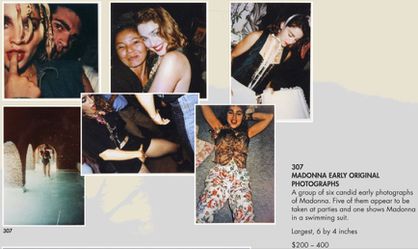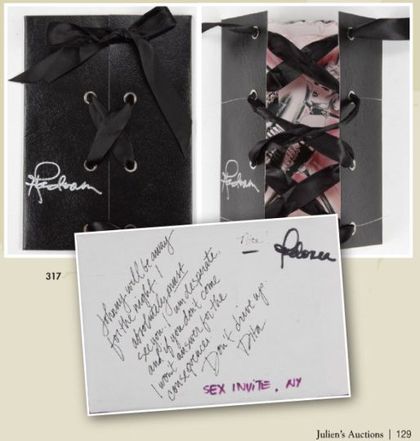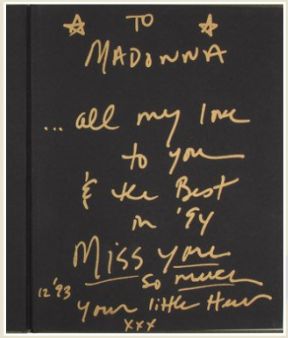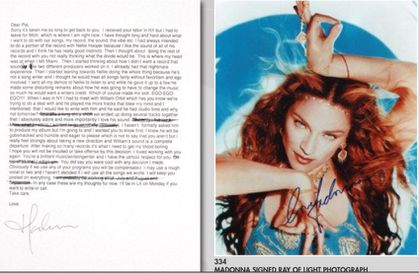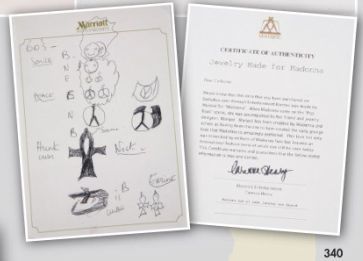 2011 Music Icons Auction

Watch the catalog online here
Buy the catalog here (price: $75.00)