More press on Madonna's ''Material Girl'' Launch
Plus de presse sur le lancement de "Material Girl" de Madonna.

Madonna and daughter Lourdes launch clothing line for teenagers
A new clothing range from Madonna and her 13-year-old daughter Lourdes has been launched in the US amid questions over the sexualisation of teenagers.
Published: 9:56AM BST 04 Aug 2010
Material Girl, which was unveiled at Macy's department store in New York on Tuesday, consists of clothes, footwear, handbags and accessories, including lace minidresses and sequinned hot pants.
The promotional pictures show Taylor Momsen, the 17-year-old star of Gossip Girl, the US school drama, tangled up in chains with bleached hair and heavy make-up.
One shot shows her in a black and white mini skirt, dark nail polish and biker boots. Another shot shows her posing in a low-cut grey mini dress and fishnet tights.
It is not the first time questions have been raised about the suitability of outfits sold in High Street stores for younger teenage girls.
There were criticisms earlier this year when year ten-year-old Noah Cyrus launched a children's clothing range which included mini skirts, skin-tight Lycra dresses, and high-heeled knee high boots.
Psychologists have long warned about the premature sexualisation of children and young adults in fashion and popular culture.
In a report earlier this year, leading psychologist Dr Linda Papadopoulos said that the barrage of "sexualised" advertising and imagery, meant it was becoming increasingly difficult to differentiate between where childhood ends and adulthood begins.
Source: Daily Telegraph.

Madonna And Lourdes Release Material Girl Range
04 August 2010 11:07
Madonna and her thirteen year old daughter Lourdes have just release their new range of clothing 'Material Girl'. Aimed at the teenage market the look of the range has been put together by this famous mother and daughter partnership. The official launch was at Macys on the 3rd August and hundreds of people queued to get the first look and to snatch up a few free giveaways.
Lourdes aka Lola spoke about the clothing line on the official Material Girl website 'Ok may I just say, not to brag or anything, but its pretty awesome and I do like the clothes a lot.' She goes on to say 'I'm not the designer of the line but my mom and I inspired it and do the styling and the putting together, staying on trend'.
The Madonna and Lourdes inspired clothing range 'Material Girl' will only be available from Macys.
Source: Contactmusic News.

Madonna draws shoppers to South Coast Plaza
August 03, 2010 | By From KTLA-5 News
COSTA MESA — Just in time for back-to-school shopping, rock super star Madonna and her 13-year-old daughter, Lourdes, have teamed up for a new clothing line that debuted Tuesday at Macy's stores across the country.
Shoppers visited the South Coast Plaza location in search of the pop star's designs.
The new juniors clothing line called "Material Girl" offers apparel, footwear, and accessories "designed for affordability and replenishment." Items in the collection will retail from $12 to $40.
The collection, which includes hip-hop, ballet and European influences, is also available online.
Taylor Momsen, the star of television series "Gossip Girl," has been picked as the face of the brand.
Source: Daily Pilot.

Madonna's Material Girl Clothing Line Launches At Macy's In New York City
Posted 19 hrs ago by MTV News in Fashion & Style, Photos
By Eileen Reslen
Hollywood Crush
Madonna and daughter Lourdes' clothing line (a.k.a. Material Girl) hit stores today and we were on the scene with some of the shoppers at Macy's in New York City as they received the original Material Girl treatment by walking on a pink carpet, eating sprinkled cupcakes and even jammin' to some of Madonna's greatest hits!
But, while the music icon herself wasn't actually present at the Macy's premiere, fans of the line were greeted by some 80s inspired Madonna lookalikes that had you think you were seeing double (or at times quadruple).
And whether you are age 15 or 25, fashionistas agree that the mother/ daughter duo has discovered exactly how to bring out your best style at any age. Maria Paula Garcia, 11, said wearing these clothes would surely make her stand out from the crowd. "We don't see this everyday," she said of the line. "The skirts definitely [I would wear to school]."
It's not just school girls who are looking to show off their amazing style. Even the working gal can make a statement in one of Madge and Lola's designs.
Clothing designer and Madonna superfan Rebecca Szymczak, 27, said there are a range of looks that make it easy to choose outfits for a day inside the office or a night out in the city. "You definitely see kind of like a younger more street vintage inspired vibe and then you can see the more refined and tailored silhouettes," she said.
However it's not just look of the clothes that draws in a crowd because apparently the price tag is just as appealing.
"I was thinking the prices were going to be out of control and it's actually really affordable," Cheryl Martin, 29, said. "I could buy 20 pieces of Material Girl merchandise and be happy with it versus buying some other big designer brand."
And as if free cupcakes and cute clothes weren't enough of a great deal, a free concert was given by spokesmodel Taylor Momsen this afternoon at 5 p.m. at Macy's!
Source: MTV/Hollywood Crush.

Taylor Momsen Launches Madonna's Material Girl Fashion Line in New York
by Megan Vick, N.Y. | August 04, 2010 6:26 EDT
Billboard.com news
Taylor Momsen went from "Gossip Girl" to rock singer, and now she can add fashion model to her resume.
Momsen -- who is spending her summer on the Vans Warped Tour fronting her band, the Pretty Reckless -- stopped by Macy's Herald Square in New York yesterday (Aug. 3) to launch the new Material Girl clothing line, designed by Madonna and her daughter Lourdes "Lola" Leon.
Momsen told Billboard.com that signing on to represent Material Girl was an easy decision. "It's Madonna - she doesn't really do anything wrong, ever," the 17-year-old said in her dressing room, while a crowd of girls waited upstairs for her to perform. "So I had some faith there, and I saw the collection and it's really, really great.
"It's very much based on mixing and putting pieces together which I really like because that's what I do instead of pre-designed looks," added Momsen, who was styled by Lourdes for the Material Girl ad campaign. "She kind of reminded me of my little sister in a way. She was a very sweet girl, and [she has] great fashion sense."
A glance at the album art of the Pretty Reckless' upcoming debut album, "Light Me Up," suggests that Momsen has always been a style maven. The album, due Aug. 31 on Interscope, features a blonde toddler sporting a white T-shirt, leather jacket and a lighter.
"The idea came from an old photo of me," says Momsen. "I was sitting on a baby motorcycle, with a leather jacket and sunglasses on when I was like 2 years old. The motif came from that."
Although she finished her stint on the CW's "Gossip Girl" after its third season, Momsen is not one to shy away from drama. The video for Pretty Reckless new single, "Miss Nothing," has the singer posing as Mary Magdalene - in nothing but form-fitting silver lingerie and spike heels -- in a "Last Supper"-inspired set.
"It seemed fitting for the song -- the song is about a lover dying," Momsen explained. "It's Jesus's last supper, and [Mary Magdalene] can't live without him."
The Pretty Reckless have tour dates lined up through Aug. 22, and Momsen has also been tapped as the face of John Galiano's perfume, set to launch this fall.
Source: Billboard.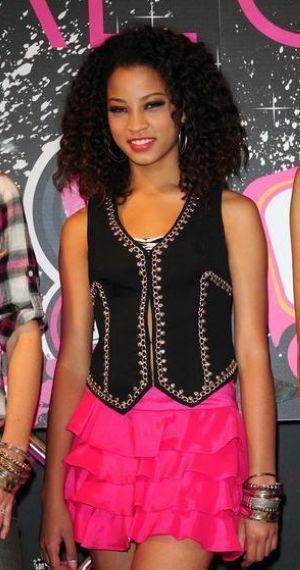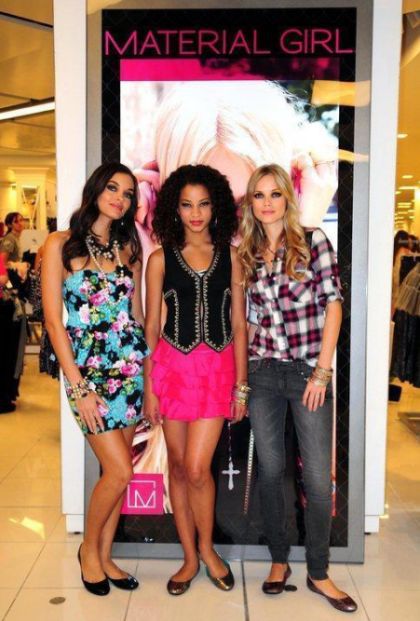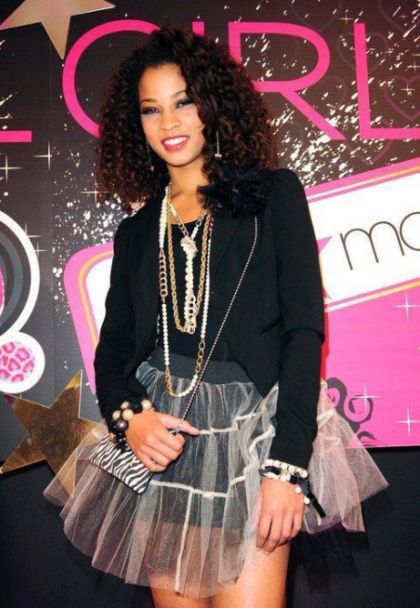 Models are seen wearing items from the new clothing line 'Material Girl', which was co-designed by both Madonna and her daughter Lourdes Ciccone Leon. This new fall collection officially launched today at Macy's in the Dadeland Mall.. Miami, Florida - 03.08.10