Muses Rock: Madonna in Jean Paul Gaultier
Muses Rock: Madonna en Jean Paul Gaultier.
Muses Rock
Influences croisées, entre amour et amitié, les créateurs mélomanes et leurs muses esthètes s'inspirent l'un et l'autre. Madonna et Jean Paul Gaultier, Pete Doherty et Hedi Slimane, Françoise Hardy et André Courrèges... Vogue.fr fait le récit des plus belles histoires réunissant la mode et la musique. Par Antoine Pastor
Madonna en Jean Paul Gaultier
Lorsque Jean Paul Gaultier voit Madonna chanter Holiday sur le plateau de Top of the Pops en 1983, c'est la révélation. La Reine de la Pop devient la muse du couturier qui rêve d'habiller son idole. Sept années plus tard, le fantasme devient réalité. En 1990, Madonna fait appel à lui pour concevoir les costumes de sa tournée mondiale Blond Ambition. Erotiques et ésotériques, les tenues de scènes créées par Jean Paul Gaultier incarnent l'harmonie qui règne entre les deux artistes. Partageant un style qui allie provocation et incorrection, la chanteuse américaine et le couturier punk ne se quitteront plus, Jean Paul Gaultier dessinant pour Madonna les costumes de la tournée Drowned World (2001) et du Confessions Tour (2006).
Ci-dessous, Madonna vêtue du célèbre corset aux armatures coniques en satin rose pâle.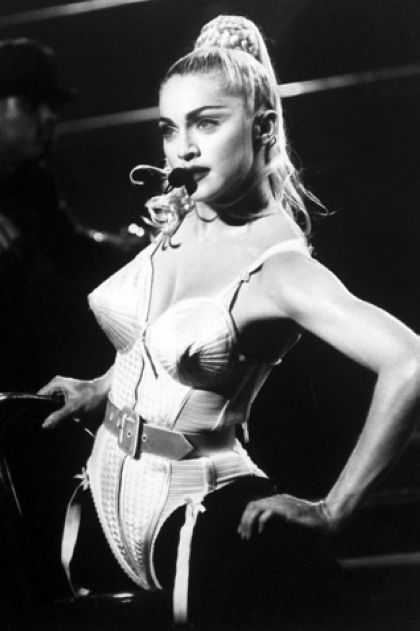 Blond Ambition Tour - 1990