Nicki Minaj, The Madonna of Rap
Nicki Minaj, La Madonna du Rap.

Nicki Minaj is an Actress at Heart
June 8, 2011 at 10:33 am
Since her debut on the rap scene, Hip Hop hasn't been the same. You could call her the Madonna of rap with her colorful wigs, strange and sometimes disturbing facial expressions, and ever-changing image. Nicki Minaj admitted she became a rapper by accident and really enjoys acting.
That's pretty obvious with her stage presence and performances.
In an interview with Entertainment Weekly, Minaj explained that she became a rapper by accident, and would love to possibly work with the likes of Will Smith and be directed by Tim Burton.
"I went to school to be an actress. I never expected to be a rapper. It just fell in my lap," she explained. "I would like to get an acting gig. I hope that when I am done with the tour I can go back and do some acting. That is my long-term goal."
Minaj gets to entertain her desire to act while on stage. In an upcoming tour with Britney Spears, the rapper says it's going to be pretty amazing.
"I want to go all out and make it over the top and theatrical," the 'Pink Friday' creator revealed. "There will be costume changes and hair changes. Lots of sexy outfits and dancing. I don't know how to do things normal and boring. Why? People pay good money for concert tickets these days."
Source: EURweb.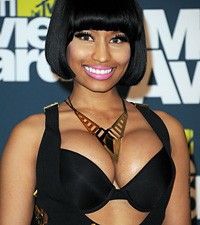 Nicki Minaj