Nicki Minaj wants Madonna in her 'Girls Fall Like Dominoes' video
Nicki Minaj veut Madonna dans sa vidéo 'Girls Fall Like Dominoes'.

Nicki Minaj 'wants Madonna, Rihanna for vid'
Wednesday, March 30 2011, 09:51 BST
By Lewis Corner, Music Reporter
Nicki Minaj has asked a number of high-profile female stars to appear in her new music video.
The 'Moment 4 Life' rapper, who mentions a total of 16 female celebrities in her new single 'Girls Fall Like Dominoes', revealed that she wants them all to appear in the video.
"There's every chance the big names will oblige. Everyone loves Nicki. It's already causing a stir in various camps," a source told The Sun.
Minaj tweeted her plans to organise cameos earlier in the week, writing: "Two questions: How many divas did I name in Girls Fall Like Dominoes' and who should make a cameo in the video?"
Stars the rapper mentions include Mariah Carey, Madonna, Angelina Jolie, Beyoncé and Rihanna amongst others.
Minaj recently revealed that she has submitted a verse to be included on Lil Wayne's upcoming album. She has also recorded a collaboration with David Guetta and Flo Rida, which is thought to be released soon.
Watch the video for Nicki Minaj's current single 'Moment 4 Life' below.

Source: Digital Spy.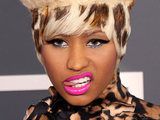 Nicki Minaj