No collaboration with Nervo for Madonna's 2012 album
Pas de collaboration avec Nervo pour l'album de Madonna en 2012.
Nervo to cap off a big year at Summadayze
Posted by Gianni Borrelli on Dec 29th, 2011
When pop heavyweights Madonna and Britney Spears are knocking on your door – you know you've made it. Such is life for Australian songwriter, producer, model, spokesperson and DJ Miriam (Mim) Nervo and her twin sister Olivia. Better known by their last name, Nervo have gone from strength to strength in the pop and dance worlds. Co-writing and producing the Grammy-winning 'When Love Takes Over' with French DJ du jour David Guetta in 2009, this year has proved just as successful for the duo.
Mim had even more reason to celebrate – she revealed Nervo's track 'We're All No One' with Afrojack and Steve Aoki just reached #1 on the UK Club Charts. Another thing to tick off Nervo's ever-decreasing to-do-list.
Even pop queen Madonna sought out a Nervo collaboration for her upcoming 2012 album. A natural fit – both blondes, both Italian, both with roots in club and dance music. Such a pairing could have easily catapulted the duo into legend status (much like Madonna's other collaborators – Mirwais, Stuart Price, William Orbit). The song in question however was deemed 'too good' to give away, as Mim explained.
'She definitely wanted one of our records, but our label really wanted us to keep the track for ourselves. So it's our next single! It's the track we've done with Avicii. I think it's so great that she wanted to work with us, but she let go of the collaboration, and we're releasing now, so don't worry, the song will still come to life'.
Read the full interview at Glam Adelaide.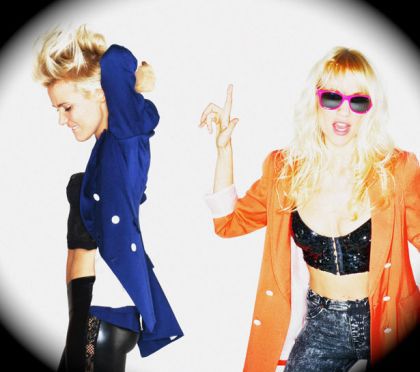 Nervo