No love lost between Madonna and Guy Ritchie
Il ne reste plus d'amour entre Madonna et Guy Ritchie.


Sunday May 30,2010
By Adam Helliker
ALTHOUGH they divorced in a relatively civilised manner, I hear there is no love lost between Madonna and her former hubby Guy Ritchie.
Ritchie, who is embracing bachelor life with vigour, squiring a string of pliant bimbolettes around London, would seem to have little to complain about, given that he received £50million for being with the sinewy singer for eight years. A friend confides: "They hardly talk and when they do it's only to discuss the kids. It's as if they would like to airbrush each other from their personal histories."
Which might explain why Guy has hired an interior designer to refurbish Ashcombe House, the Wiltshire roost the couple once shared, so that no traces of Madonna will remain.
Source: Daily Express.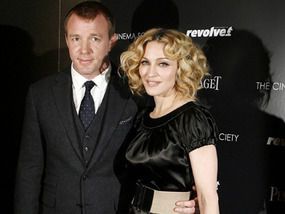 Guy Ritchie and Madonna