Nude Madonna top sparks violent threat
Un T-shirt de Madonna nue suscite une menace de violence.


BY MICHELLE HOCTOR
13 Jan, 2010 04:00 AM
It may be in vogue, but pop star Madonna's striking naked pose has stirred up controversy at Thirroul.
Since a singlet featuring Madonna was displayed in the window of edgy menswear store The Con Artist on Lawrence Hargrave Dr two weeks ago, a stream of customers has visited.
But it was the arrival of a note, slipped under the door and threatening to vandalise the premises, that has caused alarm.
"If the singlet is not removed ... you may find some concerned local might put a brick through your window," the note threatened.
Tahlia Crinis, who co-owns the shop with mum Delwyn, said the Free* Madonna T-shirt image was featured in the entertainer's coffee table book Sex and shows her sans clothes, kneeling in sand at the beach.
"It's quite a famous picture," she said.
"But the singlet was only there a couple of days when we got the note slipped under the door."
The typed note read in part, "These images are highly inappropriate and demeaning. This is not Kings Cross.
"If you need to bring your trashy clothes into this area, please keep them out of sight."
Ms Crinis, 25, said while she respected people's opinions, she did not accept the method of protest.
"Surely this person could have come in and asked us to remove it," she said.
Rather than relocate the singlet, the two women staged their own protest, hanging the threatening note over the top of Madonna's private bits in the store window.
And since then business at the six-month-old store has never been busier.
"I've had so many people walking past and a lot have come in, asking 'which singlet is it?' " Ms Crinis said.
"I've sold quite a few since it first happened, largely to younger guys looking to make a bit more of a statement. Most people have said that whoever wrote the letter needs to get a life. They didn't find it overly offensive."
Ms Crinis said clothing displaying the naked female form came into fashion several years ago and demand had not abated.
"A buyer of one of the brands said clothing with naked girls or girls kissing were the most popular. They run out the door."
"It's definitely a trend. Some guys like to shock - they want to be noticed and having a singlet like that will get them noticed."
Source: Illawarra Mercury.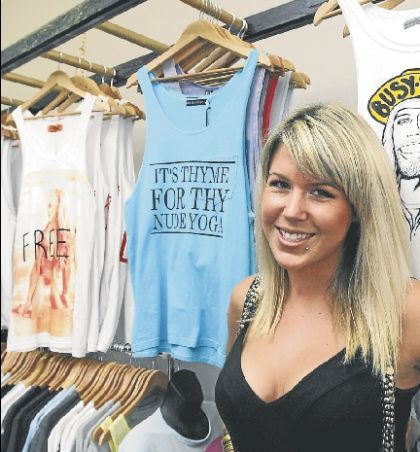 Tahlia Crinis, co-owner of Thirroul's The Con Artist, was bemused by the method of protest over the racy Madonna T-shirt (far left).
Photo: KIRK GILMOUR.