ONG Spirituality For Kids ate hamburger and fried potatoes with Madonna in Rio, Brazil on Nov. 11, 2009
L'ONG Spirituality For Kids a mangé des hamburgers et des frites avec Madonna à Rio, Brésil le 11 nov. 2009.

11/11/09 - 18h37 - Atualizado em 12/11/09 - 02h09
Crianças de ONG do Rio comem hambúrger e batata frita com Madonna
Moradores mirins da Ladeira dos Tabajaras, em Copacabana, cantaram, dançaram e deram aula de Cabala para a cantora
Léo Martinez
DO EGO, no Rio
Trinta e três crianças do Projeto Energia Olímpica, da ONG Spirituality For Kids, lancharam na presença de ninguém menos do que Madonna na tarde desta quarta-feira, 11.
Animadas, elas contaram ao EGO que comeram hambúrger e batata frita e fizeram atividades artísticas como pinturas e desenhos, além de terem atendido ao pedido da cantora para dançarem hip hop. A visita dos pequenos artistas foi marcada também por uma pequena demonstração dos meninos sobre a Cabala.
As crianças, que moram na Ladeira dos Tabajaras, em Copacabana, na Zona Sul do Rio, não pouparam elogios à rainha do pop, mas a conversa não passou disso. "Ela é linda, bonita e simpática. Mas não podemos falar mais nada", contaram. Os monitores da ONG que acompanharam as crianças, também foram orientados a não dar detalhes sobre o momento entre a cantora e os fás mirins.
Source: EGO Globo.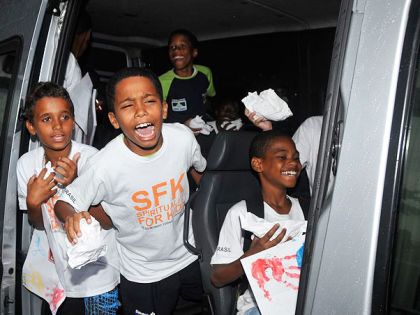 As crianças animadas depois do encontro com Madonna.