Oscar Issac: ''Madonna is not a Diva''
Oscar Issac: "Madonna n'est pas une Diva".

That's a wrap! Vanessa Hudgens celebrates Sucker Punch premiere but remains tight lipped about relationship with co-star Josh
By Sarah Fitzmaurice
Last updated at 3:41 PM on 1st April 2011
As she left Cafe de Paris, the Sucker Punch premiere after-party venue, Vanessa Hudgens covered her hair with a pearl-coloured pashmina – and that isn't the only thing she is keeping under wraps.
Vanessa joined her co-stars on the red carpet at Leicester Square's Vue cinema to premiere the Zack Snyder film in the U.K. which opens in cinemas across the country tomorrow.
The film crew then enjoyed dinner at Bam Bou restaurant before heading to Cafe de Paris to finish off the evening's celebration.
Also dazzling on the red carpet Abbie Cornish, 28, was dressed in Alberta Ferretti in a coffee-coloured long dress with lace overlay and dazzled in £175,000 worth of Cartier jewels.
The Australian actress has been working with her Sucker Punch co-star Oscar Issac on Madonna's latest project W.E.
Oscar, 31, spoke to MailOnline about working with Madonna and said: 'Was she a diva? No I hoped so but she is actually self-deprecating and really very funny she is actually very open.'
Abbie Cornish appeared on U.S. TV show, Jimmy Kimmel Live last week to promote the film and described how she was shooting an action scene when a fellow star came at her with a WW1 rifle with a steel bayonet on the end.
'I ducked it but the timing was off and this steel bayonet comes at my head it hits me on the side of the head,' she said.
'It was a really hard knock. I went down and when I came to and I looked in my hand and I had blood in my hand and blood running down my face,' she said.
It was later discovered that the metal grip holding her hair extension in place was what deflected the force of the blow.
'Your life was saved by hair extensions,' said host Jimmy Kimmel. 'It totally was,' she replied.
Sucker Punch opens in UK cinemas on April 1.

Source: Mail Online.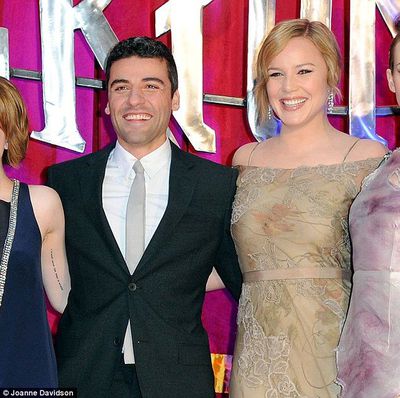 Oscar Issac and Abbie Cornish
Upcoming projects: Oscar Issac and Abbie Cornish are working together again on Madonna's film W.E. The 31-year-old actor said he hoped the singer was a diva but she is actually funny and self-deprecating.