Our Lady of Malawi: Why Madonna's Malawi School Failed
Notre Lady du Malawi: Pourquoi l'école de Madonna au Malawi a échoué.

Our Lady of Malawi
Kabbalah teaches that only giving will bring a soul out of the darkness. So Madonna planned a splendid gift for an impoverished African nation. Somebody turn on the light.
By Vanessa Grigoriadis Published May 1, 2011
On a weekend night about a month ago, the paparazzi stand in front of Milk ­Studios in ­Chelsea, hoping to catch a glimpse of some of their favorite prey in New York. This is the Kabbalah Centre's annual ­Purim party, to commemorate the thwarting of a Persian plot to kill Jews, and Madonna is due to arrive at seven, swishing through the wet streets in her blacked-out Town Car with her children Rocco and Lourdes, and fashion photographer Steven Klein in a black-latex mask. When Madonna is at Shabbat services and celebrating the Jewish High Holidays, she presents a confusing tableau: Still a Catholic, she often appears with a gigantic cross hanging from her neck, the size of the one in her Desperately Seeking Susan days, and carries her adopted ­Malawian son, on whom she's usually placed a yarmulke. But like most synagogues, the Kabbalah Centre celebrates Purim with a party befitting Halloween night, so tonight, with her flair for a shocking costume, Madonna has no trouble fitting in. At past Purim parties, she's dressed as a nun (Guy Ritchie was the pope), a flapper (Guy was a cop), and a goth schoolgirl (she was single at that one), but this year, she's decided to conceal herself as Charlie Chaplin, with her hair in a bun, a round black hat perched on her head, and a white rose clenched between her teeth.
Even as a man—a being that, according to the teachings of both the Kabbalah and Madonna, is far less enlightened and perceptive than a woman—she's unmistakable, and the paparazzi shoot her as she goes up to the party, though they miss Demi Moore and Ashton Kutcher, who dash into the elevator in matching pig costumes with big fuzzy heads. Upstairs, Moore and Kutcher take their pigs' heads off and move through the crowd of about 250 people, full of disco divas, an Avatar character, lots of sinewy women in saris, and a guy in a T-shirt that says TIKKUN: DEPARTMENT OF ­CORRECTIONS (Kabbalists believe that "correcting," your karma is the way to achieve tikkun, the Hebrew word for one's transformation in the world). The crowd sings ­Purim prayers together—ecstatic prayer is the mode of worship here, not a cantor's dreary hum over a Torah—and when the service is over, everyone whoops and claps as Rocco does a short break-dancing exhibition.
Afterward, Madonna repairs to Milk's VIP room, holding court from a chair in the corner. No one in the main room seems to mind—they're glad that Madonna's chosen to join their congregation, to sit among them to reconnect to the Light, which is what Kabbalists call the higher spiritual power. "That's the way it is with Madonna and Kabbalah," says a congregant. "If there's a party, she never mixes. When she comes to services on Friday night and Saturday morning, Madonna rolls in late with an entourage, and they sit in the front row of the synagogue. In Kabbalah, she's the queen."
Like many a monarch of the past, the queen's faith is being tested. Last month, a charity started by Madonna and one of the Kabbalah Centre's leaders, ­Michael Berg, Raising Malawi, imploded after spending $3.8 million building a girls' boarding school in Africa. The school was a beautiful dream. In renderings, it was to be a place worthy of Madonna's grandeur and good wishes and aesthetic refinement, an impeccably tasteful little city set down in the African savanna.
Now the money is mostly gone, and no one is saying exactly where it went. Some of Madonna's factotums blame the Africans, and other former employees. The Southern District of New York is conducting a tax-based investigation into the finances of the charity, along with the Kabbalah Centre and Success for Kids, another one of their jointly run charities. Madonna has taken members of the Kabbalah Centre off Raising Malawi's board, and plans to build a series of smaller schools in Malawi, though she has not made that commitment yet—"Unfortunately, we may have to wait until the legal issues have been resolved," says one of her representatives. Karen Berg, matriarch of the Kabbalah Centre had this to say about the problems they face: "In sharing Kabbalah with the world for the last 40 years, we learned the many ways chaos and darkness can manifest themselves. And although it is very difficult, we understand that the darkest part of the night is just before the dawn."
Some of the money, probably not Madonna's, seems to have gone into the darkness at the moment, allegedly non­transparent. But what's money compared with the power of the Light? This is why Madonna may stay close to Kabbalah no matter what allegations may be raised about the group's finances. The monarch doesn't just jettison the pope because they have a little disagreement—at least most of the time. "These are her spiritual advisers," says a source. "At this point, she still has faith in them."
Madonna has shocked us many times over the years—not least when, even though she was once a Lower East Side icon, she recently moved into a townhouse on the Upper East Side—but there's really nothing stranger than the role she has taken on in the past decade or so as the de facto leader of this mystical Jewish offshoot. After all, this is the famously heretical Catholic who has consistently thrown her anger at that religion in our face, even performing a mock crucifixion during a world tour a few years ago. Madonna claims that part of what attracts her to Kabbalah is that it's not a traditional religion. "I've had enough of religion," she has said, adding that it "makes me sick." "People say, 'If you're not a Christian, you're going to go to hell when you die,' or, 'If you are not Jewish, and you're not part of the chosen people, tough luck for you.' Kabbalists—and I include myself in that group of people—don't look at the world that way, in that fragmented way."

- Next: How Madonna's road to Malawi began.
- Next: Why it made sense for her to try to "raise" some motherless children.
- Next: The middleman in this whole financial/spiritual/celebrity transaction.
- Next: Her hands-on approach.
- Next: The Bergs' wealthy lifestyle.

Source: New York Magazine.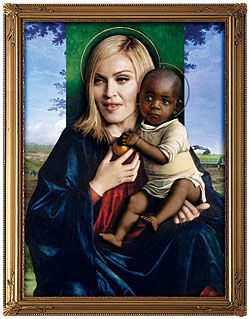 Madonna (Madonna Ciccone) and Child (her adopted Malawian son David Banda).
Photo: Superstock/Gerry Images (Giovanni Bellini's "Madonna & Child" [c.1430-1516]); Mark Sullivan/Wireimage/Getty Images (Madonna); Karel Prinsloo/AP Photo (David Banda). Illustration by Darrow.



The proposed campus of the Raising Malawi Academy for Girls, designed by studioMDA.




Karen Berg, Anjimile Oponyo, Philippe van den Bossche and Trevor Neilson.
1. The Spirit Guide: Karen Berg, the Kabbalah Centre's matriarch, helped turn an obscure Jewish text into one of the most popular spiritual disciplines for the famous.
2. The Local Talent: A U.S.-educated Malawian U.N. official, Anjimile Oponyo was hired to run Madonna's school—then fired before it ever opened.
3. The Man Friday: Philippe van den Bossche, a Kabbalah Centre devotee, became the school's executive director and a core member of Madonna's entourage—until he was suddenly fired.
4. The Charity Consultant: Trevor Neilson helped Brangelina and others to harmonize their giving and their image. But Madonna's Malawi efforts presented a big problem.
Photos: From left, Theo Wargo/Wireimage/Getty Images; Shahar Azran/Polaris; Astrid Stawiarz/Getty Images; Victor Boyko/GC/Getty Images; Brad Barket/Getty Images.