Photos from Glee: Lea Michele and Jane Lynch as Madonna
Photos de Glee: Lea Michele et Jane Lynch en Madonna.

'Glee' ful im-Madge-ination!
By DAVID K. LI
Last Updated: 6:47 AM, April 11, 2010
Posted: 3:09 AM, April 11, 2010
There's no show more in vogue than "Glee."
Stars of the breakout Fox musical hit are gracing the cover of TV Guide this week, in all their Madonna greatness.
The show has been on a break since December, but will return to Channel 5 Tuesday night.
On April 20, "Glee" will air a Madonna-themed episode, prompting the TV Guide homage to the Fox hit and Madge.
New Jersey native Lea Michele channeled her inner-Material Girl for the glamour shoot, while co-star Jane Lynch showed she's got that blonde ambition, too.
The show's been such a major hit on the small screen, the cast is going on tour to perform next month. They'll play Radio City Music Hall for five shows between May 28 and 30.
Source: NYPOST.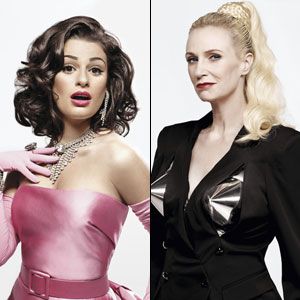 CHANNELING THEIR INNER MADONNA: Diamonds by the yard are Lea Michele's best friend (left), but her "Glee" co-star Jane Lynch prefers bullet-proof breasts in their Madonna-inspired photo shoot for TV Guide.
Photos: Art Streiber for TV Guide.