Poverty in Malawi 'pains' pop star Madonna
La pauvreté au Malawi 'fait de la peine' à Madonna.

05/04/2010
LILONGWE (AFP) – US pop star Madonna Monday said poverty in Malawi "pains" her during a visit to the birth country of her two adopted children where she will lay the first bricks of a girls' academy she is funding.
"As a mother, it pains me to see women having no access to potable water and good education," Madonna said after visiting a poverty alleviation project in the Mchinji district where she controversially adopted David Banda in 2006.
Toddler Chifundo 'Mercy' James, adopted last year, and her biological daughter Lourdes accompanied the singer to visit the Millenium Village site.
"It's good to be back in my adopted country," she told journalists.
The pop star was given a heroes welcome with villagers staging traditional dances and displays, and said she would "ask friends and fans around the world to join us in making the difference" in Malawi.
Madonna, who funds several initiatives in Malawi, broke ground in October last year for the 15 million dollar school, which will admit 500 girls from poor backgrounds.
The brick-laying ceremony will take place on Tuesday.
Construction of the academy was delayed over a dispute between her charity and some 200 villagers who claimed they were not adequately compensated for land used to build the school.
The government forcibly removed the villagers, who were paid 500,000 dollars in compensation by Madonna's charity Raising Malawi.
Malawi is one of the world's poorest nations, with more than half of the population of 13 million living on less than one dollar a day.
Source: AFP.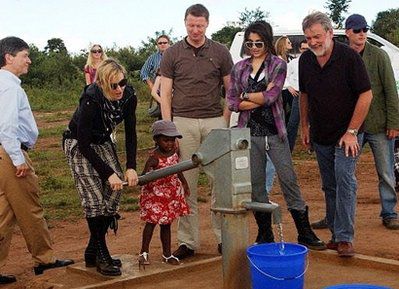 US artist Madonna(2ndL) and her adopted daughter Mercy James (3L) pump water from a borehole whose construction she funded at a community school also funded by her during a visit during her visit to Gumulira Millenium villages in Mchinji, Malawi.
Photo: AFP/Amos Gumulira.