Rise of Young Architects: Protégés Find Fame With Madonna and Museums
La Montée des Jeunes Architectes: Les Protégés trouvent la Gloire avec Madonna et les Musées.


The Rise of Young Architects: Protégés Find Fame With Madonna and Museums
Leaving the Nest, Protégés Find Fame
By FRED A. BERNSTEIN
Published: May 24, 2010
IN the video, on YouTube, Madonna is seen laying the first brick at a school in Lilongwe, Malawi. But to connoisseurs of architecture, the real star of the video is the man standing next to Madonna, alongside a rendering of the 40-acre campus. He is Markus Dochantschi, the German-born, New York-based designer of what is called the Raising Malawi Academy for Girls.
For a young architect it's hard to imagine a higher-profile project than a school backed by Madonna. And if the attention mostly goes to the pop star, Mr. Dochantschi isn't complaining. He spent seven years working for the architect Zaha Hadid, a larger-than-life figure, learning how to stand outside the spotlight.
Mr. Dochantschi, who is 42, left Ms. Hadid's practice in 2002, making him one of a small group of foreign-born architects who have broken away from Pritzker Prize-winning mentors to work on their own in the United States. The ranks include Kulapat Yantrasast, 41, who was born in Thailand, worked for seven years for the Japanese master Tadao Ando and then moved to Los Angeles in 2003. He has already designed one American museum from the ground up and has several other museum buildings in the works.
And there is Florian Idenburg, 34, a Dutch-born architect who spent eight years working for Sanaa, the partnership of Kayuzo Sejima and Ryue Nishizawa, designers of the New Museum building on the Bowery. This spring Sanaa was awarded the Pritzker Prize, the profession's highest honor. Just weeks before, in what seems like a generational passing of the torch, Mr. Idenburg and his wife, Jing Liu, who live and work in Brooklyn, won the Young Architects' competition sponsored by the Museum of Modern Art and its Queens affiliate, P.S. 1. Their creation — a jaunty installation called Pole Dance — will open at P.S. 1 on June 27.
(One thing all three architects have in common, besides moving thousands of miles from home to set up shop in the United States, is that those shops have somewhat cryptic names: Mr. Dochantschi's is Studio MDA; Mr. Yantrasast's, in which he has two partners, is wHY Architecture, and Mr. Idenburg's is SO-IL Solid Objectives Idenburg Liu.)
The rise of the young architects is good news for the industry, which is in a deep recession — so deep that even star architects aren't in a position to give work to their former employees. The protégés accept that. Asked about Mr. Ando, Mr. Yantrasast said, like a loyal son, "No one ever handed him anything, and he wants me to learn the same lesson."
The dance of young architect and mentor is a tricky one, and may involve hurt feelings on one or both sides. When he decided to leave Sanaa, at the end of 2007, Mr. Idenburg published an article in the architecture journal A+U in which he described himself as setting strategy for the office's modus operandi outside of Japan, a claim that, reportedly, left the firm's partners miffed; through a spokesman, Ms. Sejima and Mr. Nishizawa declined to speak about Mr. Idenburg.
"I was a handful for them," Mr. Idenburg said. "I was outside of the Japanese hierarchical system. That was something they had not experienced before."
Mr. Yantrasast also apprenticed in Japan. He moved from Thailand to Tokyo to pursue a Ph.D. in architecture. But after hearing Mr. Ando lecture, he followed him to Osaka, in 1996, where he worked on Mr. Ando's competition entry for the Modern Art Museum of Fort Worth. When Mr. Ando won the competition, he asked Mr. Yantrasast to stick around, and soon he was something of a surrogate son to the childless Mr. Ando and his wife, Yumiko. Mr. Yantrasast left the firm to move to Los Angeles in 2003; he speaks flawless English and is building himself a house with a pool in the Venice neighborhood. When the trustees of the Grand Rapids Art Museum in Michigan were looking for an architect for their new building, they wanted someone up and coming — and chose not Mr. Ando but his protégé.
The Grand Rapids building not only contained a number of green features but was a stunning piece of architecture reminiscent of Mr. Ando's best work. Mr. Yantrasast, however, sees it as more open than Mr. Ando's buildings. "The Japanese sensibility," he said, "is about tension, control and discipline. Thai people love the openness of things." He said he had unconsciously incorporated that openness into his architecture.
His wHY Architecture now has museum commissions in Tyler, Tex., and Louisville, Ky., and is renovating several galleries at the Art Institute of Chicago, which is known for its exacting standards. Mr. Yantrasast attributes his success, with a modesty that may reflect the years he spent in Japan, to luck. Meanwhile he still acts as the eyes and ears for Mr. Ando in the United States and says he hopes to help his mentor land a job in a major American city. "Frank Lloyd Wright without the Guggenheim would not be the Frank Lloyd Wright we know," he said, explaining his desire to find a career-capping commission for Mr. Ando.
Mr. Dochantschi too has had his share of luck. After studying in Germany, he made several trips to Japan — he worked for both Arata Isozaki and Fumihiko Maki — but in 1995 went to work for Ms. Hadid. He described her as a "very demanding but very trusting" boss. Back then, she had fewer than a dozen employees, he said, and even fewer built projects.
But in 1997 she won the commission to design the Rosenthal Center for Contemporary Art, in Cincinnati, and with it a chance to prove herself in this country.
Mr. Dochantschi was named project architect, an assignment that soon had him spending most of his time in New York. Eventually he married an American, and when the museum was completed, he decided to stay in Manhattan.
Suddenly he was working out of his apartment and doing projects as small as a kitchen addition in Maplewood, N.J. "I went from master-planning thousands of acres to trying to figure out what kinds of door hinges to buy," he said.
In 2008 an intern in Mr. Dochantschi's office met the director of the Raising Malawi Academy and recommended that Mr. Dochantschi design it. He was hired by Philippe van den Bossche, who handles Madonna's philanthropy, and agreed to donate his time. The campus he designed, on a 40-acre site, consists of a series of origami-roofed buildings made out of mud. (He chose not to use brick because the need to fire brick is leading to rapid deforestation in Malawi.)
Far from being merely a designer, he studied the culture and economy of Malawi to try to make the school not only environmentally, but also educationally, sustainable. He is using some of the same ideas for a school under construction in Congo, also a pro-bono project.
But he also has to pay the bills, which is why a commission in Aachen, Germany, came along just at the right time, he said. There he has designed a $50 million laboratory and classroom building for the University of Applied Science Aachen, which is expected to break ground at the end of this year. It doesn't look like Ms. Hadid's work. Mr. Dochantschi isn't emulating her style, but more her approach to the profession, which, he said, involves patience and the realization that even a losing competition entry is a way to advance ideas. "This isn't the art world," he said. "You can't expect to be an overnight success."
Asked what he learned from his mentors, Mr. Idenburg too described an approach to work, rather than a style. In the Netherlands, where he grew up and was educated, the prevailing method, under the influence of Rem Koolhaas, was "you diagram a building, and then you build the diagram," he said. "In Japan they diagram, but it's a starting point for something more subtle."
Mr. Idenburg said he found the Dutch architecture world "self-congratulatory" and "based on pseudoscience." After Ms. Sejima taught at his school in Delft, he went to work for her and Mr. Nishizawa in Tokyo, helped by a Dutch government program that paid most of his salary. When that stipend ran out, he took a pay cut, he said, to work for the firm full time. But when Sanaa won the commission to design the Toledo Museum of Art's Glass Pavilion, he began spending much of his time in the United States. Then came the New Museum, Sanaa's first project in New York, where Mr. Idenburg and Ms. Liu settled. (They now have two children.)
In addition to the MoMA project — a low-budget affair on which they will be lucky to break even — Mr. Idenburg and Ms. Liu are designing a gallery in Seoul, South Korea, which will be covered in a stainless-steel mesh that they are having made in China. (Like Mr. Yantrasast and Mr. Dochantschi, he also earns money by teaching.)
Mr. Idenburg agreed that "architecture is a profession of patience," adding, "For the first 10 years you just hope to survive." Mr. Dochantschi said it's hard for young architects to break away from established firms because their low salaries don't let them accumulate start-up capital. Then too, "you have to wait until you have enough experience," he said. "But if you wait too long, you'll have a family to support."
He added: "So you have to find just the right moment to jump."
Source: NYTimes.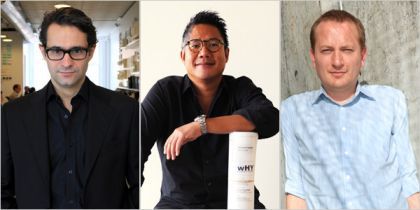 From left, Markus Dochantschi, who worked for the architect Zaha Hadid; Kulapat Yantrasast, who worked for Tadao Ando in Japan; and Florian Idenburg, who worked for Kayuzo Sejima and Ryue Nishizawa's Sanaa.
Photo: Tony Cenicola/The New York Times; Robert Yager for The New York Times (center).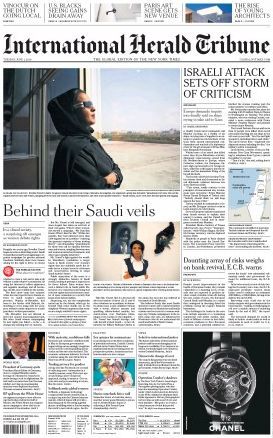 On the cover of U.S. newspaper "International Herald Tribune" - June 1st, 2010.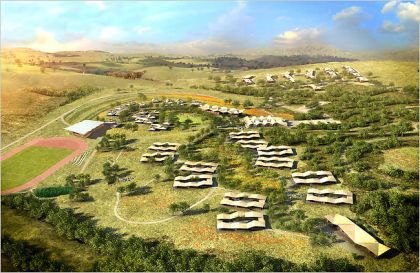 Markus Dochantschi designed the Raising Malawi Academy for Girls a school backed by Madonna in Lilongwe, Malawi.
Photo: studioMDA.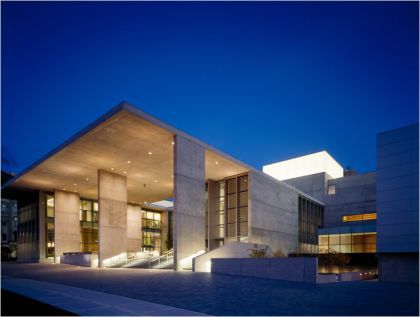 The Grand Rapids Art Museum was designed by Kulapat Yantrasast, who worked for Tadao Ando in Japan. His firm has museum commissions in Tyler, Tex., and Louisville, Ky.
Photo: Steve Hall/Hedrich Blessing.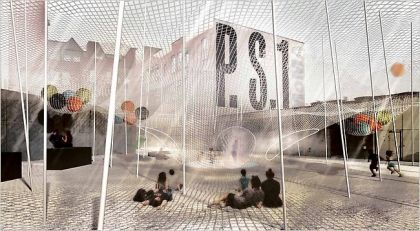 Florian Idenburg and his wife, Jing Liu, won a Museum of Modern Art and P.S. 1 Young Architects' competition with Pole Dance (rendering, above), that will be at P.S. 1.
Photo: SO-IL.