Seymour Stein at Liverpool Sound City Festival
Seymour Stein au Festival Sound City à Liverpool.

Music legend who signed Madonna visits Liverpool for Sound City
by Alistair Houghton, Liverpool Echo
May 21 2011
The music industry legend who signed Madonna paid a return visit to Merseyside for Liverpool Sound City.
Seymour Stein, the co-founder of Sire Records, who also signed Liverpool's Echo And The Bunnymen, also spoke at the festival last year – and he loved the event so much that he is back this time around.
As well as watching some of the dozens of gigs at Sound City, he visited Liverpool town hall yesterday to meet Lord Mayor Hazel Williams.
She told New Yorker Stein she believed Liverpool was the world capital of music.
And he replied: "Yes, it's a harbour – it's where things come in."
Festival gigs last night included Miles Kane's show at St George's Hall and Black Lips performing at The Masque.
Source: Liverpool Echo.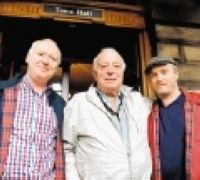 Seymour Stein (center) at Liverpool Sound City Festival.