Simon Cowell quits American Idol, Madonna as possible replacement
Simon Cowell quitte American Idol, Madonna comme remplacement possible.

From The Times
January 12, 2010
Simon Cowell to quit as American Idol judge
Chris Ayres in Los Angeles
Simon Cowell, the British reality television mogul, said last night that he would resign as a judge of American Idol in May, severing his ties with a blockbuster media franchise that has dominated ratings and earned more than $8 billion (£5 billion) over its eight-year run.
The 50-year-old judge, whose put-downs to the wannabe stars on Idol have turned him into a pop culture phenomenon — even Barack Obama name-checked him during the 2008 presidential campaign — will be leaving to set up an American version of his hit British show The X Factor in time for the 2011 season.
During Cowell's reign over Idol, contestants have frequently received more votes than the President, with some of them, including Kelly Clarkson and Carrie Underwood, going on to become platinum-selling megastars.
Cowell was reportedly offered "Oprah money" by Fuller to stay at Idol, but ultimately decided to leave the singing competition. Rivalry between "the two Simons" has long been intense, with their relationship becoming progressively colder as Cowell's contract negotiations heated up last spring.
They will both now be keen to out-do each other given that Cowell's new show will air on the Fox network, which also broadcasts Idol. (Fox is owned by News Corporation, parent company of The Times.) "We reached an agreement formally this morning," Cowell said at a press conference in Los Angeles yesterday. "What we have agreed is that The X Factor will launch in America in 2011 with me judging the show and executive producing. Because of that, this will be my last season on American Idol this year."
For the makers of Idol, Cowell will be hard, if not impossible, to replace, although there won't be any shortage of celebrities willing to take his $36 million-per-season salary, which reportedly does not include his share from albums made by winning contestants.
Madonna has been mooted as one possible replacement. Even before news of Cowell's departure, the judging line-up of Idol had already been tweaked twice, with the addition last season of a fourth judge, Kara DioGuardi, and the replacement of the eighties pop singer Paula Abdul with the talk-show host Ellen DeGeneres, who debuts in a few weeks.
Source: Times Online.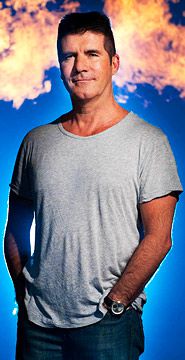 Simon Cowell, who reportedly turned down "Oprah money" to stay on at American Idol.