Spot the difference in the two Madonnas
Voyez les différences entre les deux Madonna.

By Sandra Parsons
Last updated at 8:45 AM on 18th August 2010
Several years ago, I bumped into a former neighbour and was immediately struck by how well she looked. 'You look fantastic!' I gushed. 'Honestly, about ten years younger. What's your secret?'
It was nothing, she confided modestly, other than some new make-up and a few early nights.
I immediately rushed out and spent a small fortune in Boots, and ensured that for the next few nights I was tucked up by ten. I'm sorry to report that it made no difference at all.
It was a good few years before it dawned on me that what had really happened was that my friend had discovered Botox.
I remembered this last week when I saw the pictures of Madonna, taken while she was directing her new film.
Don't laugh, but I actually thought that maybe she had finally grown up.
She looked almost normal, with minimal make-up and her hair slightly dishevelled, and even a few wrinkles on show. At last, I thought, some of the pressure is off us mere mortals.
And then came the weekend photographs of her arriving at her 52nd birthday party at the achingly fashionable Shoreditch House in London. What a difference a week makes.
But surely even the original Material Girl can't really feel good about the fact that she now looks almost no older than her 13-year-old daughter?
Source: Mail Online.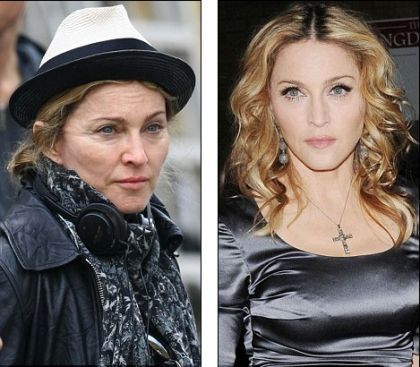 Keeping it real: Madonna, left, pictured while directing her film and, right, at her 52nd birthday party at the weekend.