Steve Sidelnyk on tours with Madonna
Steve Sidelnyk sur les tournées avec Madonna.

Interview with Steve Sidelnyk - Madonna
6 January 2008
"Get into the groove..."
Steve Sidelynk is one of the UK's unsung heroes, who has worked with a host of acts from Seal, Blow Monkeys, Style Council to Black and Richard Ashcroft. He is a drummer, percussionist, programmer and producer and for the past eight years has been Madonna's first call drummer for both recording and touring.
Mike Dolbear caught up with Steve in Los Angeles (where he now lives) earlier in the year to discuss everything from his family's incredible story on how they ended up in the UK, to being on the road with Madonna and his love of Leeds United football team!
- How do you approach the Madonna gig?
With Madonna you play what's required and that is very technology-based. I think the first tour I did with her, The Drowned World Tour, she didn't even want any cymbals. It was really difficult, trying to follow in the footsteps of Jonathan Moffett and Omar Hakim, who is one of my favourite drummers. They were two big drummers to follow, but her music had progressed in a different way. At that point I was doing what she wanted.
- Did you find the jump from the gig you did before to Madonna was quite a big jump for you?
Yeah, it was huge.
- Were there any issues with that, for you personally?
Personally, yeah, because I'm from Bradford. I went and watched the Weather Report at Hammersmith Odeon and watching the rapport with Victor Bailey and Omar I can honestly say it was probably one of the greatest shows I've ever seen in my life. His technique, his vibe, he was a monster - and that was a life-changing gig for me. Watching that, and then having to fill those shoes on any level, can feel a bit mind-boggling. I was practising lots. I think I made myself ill, I was over-compensating. I tried to cover all my bases but it just seemed to all work out, because what she wanted was what was on the record and the promo tour we were doing was music from that Music album and that was pretty mad because I sampled all the sounds into my Akai and then put them into the D-Drum which I was using, and have used on every Madonna tour since then, and I was playing all the stabs and all the rhythms. I was playing the record. That's what she wanted. It was like I was going back to using what I'd learnt filling in as a percussionist. I was like a painter painting with a different pallet, but trying to colour it all so it all made sense and just play it in time. And I have been doing that gig for eight years.
- What do you think you bring to the situation?
I play what's on the record, what's required, but not robotically. Everything changes in live scenarios. You've got a lot of input, a lot of freedom, but you've got it within certain parameters, so it requires a lot of discipline. You've got to play it solidly. You can't play it rough and you can't do grace notes, you can on some tracks, but you've got to be able to know what's the right thing for each song and artist.
- How involved is Madonna?
We rehearse for three months for a tour and she's there. Not only that but she plays drums. She started off as a drummer in a band. So the whole rhythm is important to her - the dance, the lights. Everything's cued from the drums, so you better play the arrangement as is.
There was one tune we were doing, called Hanky Panky, it's a bit of a big band number, Jeff Porcaro played on the record. We were playing it and I did a couple of fills that were different. The next day in sound check she goes 'you were getting a bit creative last night weren't you?' and I swear she was dancing, she was being thrown in the air, but she still noticed what was going on in the drums and that's how much discipline you've got to have.
- Someone like Madonna, she's at the top of her tree, she's been around a long time. She could pack up tomorrow and it wouldn't bother her, but she's still out there pushing the boundaries. Do she help you progress to another level?
I would say you have to, as far as her music progresses, you've got to progress with it. She wants an answer straight away or you've got to give her a solution. So even if you can't physically come up with it playing wise or sound-wise, if you say ''OK I'll do it for you later or it'll be ready tomorrow, I just need to prepare that'', it''s good. She just needs answers. It's a totally different way of working to someone like Richard Ashcroft where it's really organic and you go in and it can change. Her thing's all about discipline.
- You're quite well known for going everywhere on your pushbike. Now you've landed the Madonna gig and flying in private jets, do you still go around on your bike?
(Laughs)Yeah, I used to cycle all the time when living in London; it was the easiest way to get around. It''s one of the things I miss most living in LA because the roads and air quality is so bad out here. But I just went back to London, I was staying at my Drum Tech, Clint's house in Richmond, and we went along the tow path on the bikes, but I had to borrow his sister's bike!
- What made you move out? You've been out in LA now for four years, but you've had a lot of success in the UK. What made you make that big move?
I had the opportunity because I was working with Madonna. Leeds had just got relegated - I'm a big Leeds United fan - but it was just something I always wanted to do since I was a child. I wanted to move here when I was with the Blow Monkeys but my mother had died that year and my father unfortunately got really ill so I didn't go. I moved to LA when I was 40. I sold everything in England and started again. And you do start again when you go to America because financially you start again, you're competing with everything; the sessions, you've got Vinnie Colaiuta and Thomas Lang and all those people who are here. But to play live music here I found really liberating. You put your drums in the back of the truck, turn up at rehearsals, and know that nobody was going to nick your snare while you were taking in your bass drum. As a player I've progressed since I've moved here because I've been able to practise a lot more, play gigs with people even if they're not high-profile gigs. It's a big community of music here that I really wanted to get into.
- Give me a couple of tracks you're most proud of that you've played on?
Number one for me was definitely A Brave New World. I played on Richard Ashcroft's album, Human Condition. It was the situation where I was in the studio, there was Richard and me, I had my Gretsch kit and we just started jamming away and I played this song that I played in rehearsals with The Verve. I think that single is the best recording of any drum take that I've ever done.
The second one was when I played percussion on Wonderful Life by Black. It was the most bizarre thing, it was a brilliant song. I walked in and they said 'can you just turn your congas the other way round and play them like that', and I was like 'OK' and I played on this record that's still being played now. It was amazing.
- What are you currently working on?
DRAM! The Future Sound Of Bagpipes. A group I formed with the bagpipe player from the Re-Invention Tour, Lorne Cousin. Also some live stuff with Seal, a remix with Ingrid Michaelson and getting Leeds United back into the Premiership!

Full interview here: Steve Sidelnyk

Source: Mike Dolbear DRUMS.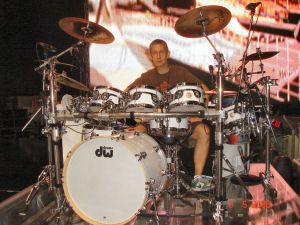 Steves acoustic/electronic DW kit for Madonna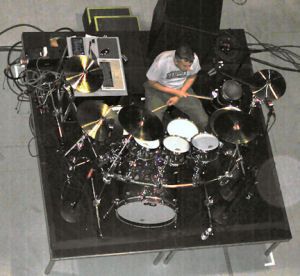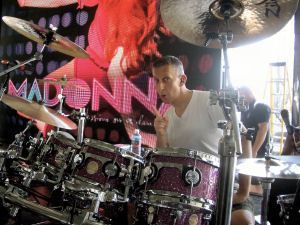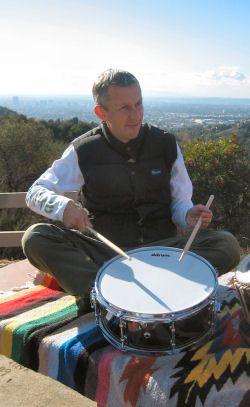 Madonna's drummer Steve Sidelnyk