The Buzz | Madonna and daugher are Macy's newest designers
Le Buzz | Madonna et sa fille sont les nouvelles designers de Macy's.


June 26, 2010
Christa Ritchie
Madonna is moving into Macy's this summer.
The star has designed a juniors collection of fashions and accessories dubbed "Material Girl" with her 13-year-old daughter, Lourdes Leon. It launches Aug. 3 exclusively at Macy's stores and on Macy's.com.
The line includes trendy jackets, minidresses and skinny jeans, all priced between $12 and $40.
Source: The Courier-Journal.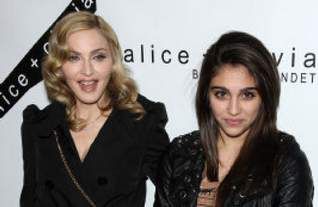 Singer Madonna and her daughter, Lourdes Leon, have become designing women.
Photo: Peter Kramer, Associated Press.

Previously on Madonna Fans' World:
Who's that girl in Madonna's Material Girl ad?
More press on MG Collection: Now you can dress like a Material Girl
Madonna's 'Material Girl' Collection at Macy's: First ad
Madonna's 'Material Girl' Collection at Macy's: The Tag
Madonna's 'Material Girl' Collection on the cover of U.S. newspaper
The press on the first sketches from the 'Material Girl' Collection
Madonna's 'Material Girl' Collection at Macy's: First sketches